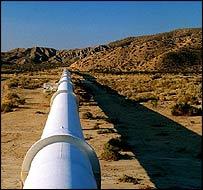 Seeking to coerce India to join long- talked gas pipeline, Pakistan said on Thursday it will guarantee safety of the Iran-Pakistan-India pipeline and may give New Delhi an equity stake in the section passing through its territory as additional surety of safe delivery of the fuel.
With New Delhi boycotting formal talks for almost three years, Iran and Pakistan this month signed last of a series of agreements for implementing the project on bilateral basis.
Islamabad insists the agreements have 'in-built' mechanism to accommodate India should it decide to join the project.
"We (the State of Pakistan) will stand guarantee for safe delivery of gas (at Pakistan-India border)," Mohammed Chaudhry Ejaz, additional secretary in Pakistan's ministry of petroleum and natural Resources, told PTI in an interview.
Of the 1,035-km length of the pipeline in Pakistan, only 100-odd km would be exclusively for carrying gas to India while the rest would be transporting fuel for both Pakistan and India.
"We have up to nine hours of power outages and we need Iranian gas to bridge this rising deficit. It is in our interest that the pipeline is safe and we get the gas to generate power and fuel industries," he said.
India was widely believed to have decided not to pursue the project after the 26/11 terror attacks in Mumbai with apprehensions being expressed about terrorists holding the pipeline hostage to their demands and even cutting supplies by blowing the pipeline to hurt the interest of world's second fastest growing economy.
New Delhi, however, has not officially called it quits yet and is proposing talks with Iran to sort out impediments.
It wants to take custody of gas, that triggers payments for the fuel, only at Pakistan-India border to make Iran explicitly responsible for safe passage of gas through Pakistan.
Also, it wants gas utility GAIL (India) to take a stake in the 1,035-km pipeline section in Pakistan to make the project bankable, reduce the financing cost, ensure timely execution and ensure transparent and efficient management of the operations.
"Yes, we will more than welcome India to join the project length in Pakistan," Ejaz said when asked if Islamabad was open to India taking stake.
He said Pakistan in July 2009 signed a Gas Sale and Purchase Agreement and this month signed among other pacts a Gas Transportation Agreement, which has been notorised in Paris, provides for internationally acceptable transit arrangement for gas to be supplied to India.
"The agreements can be legally enforceable in any international court of law. The transit agreement makes us liable for safe supply of gas. We stand 100 per cent committed to safely supplying gas to India," Ejaz said.
Iran, in the GSPA, has committed to selling gas either from one of the phases of the giant South Pars offshore field or divert fuel it may import from one of its gas-rich neighbouring country.
Ejaz said like India, Pakistan has a growing energy deficit.
Pakistan faces a gas shortfall of 10.34 billion cubic feet per day (bcfd) by 2015. The indigenous gas supply is projected to fall to 2.16 billion cubic feet per day from current day supply of 4.3 bcfd. The demand for gas would stand at 12.5 bcfd by 2015.
Iran plans to export 2.2 bcfd of gas through the proposed pipeline, of which Pakistan's share would be 1.05 bcfd.
If India does not participate, Pakistan had planned to consume the entire volumes. The official said Iran has laid a large 56-inch line from Persian Gulf coast to Iran-Pakistan border with a view to accommodate supplies to both Pakistan and India.
"Considering Iran's internal consumption, they did not need such a big pipeline." Ejaz said according to pricing agreement between Iran and Pakistan, the gas will cost $7 per million British thermal unit if the crude oil price was $50 per barrel, $9.4 and $13 per mmBtu at oil rate of $70 and $100 per barrel respectively.
The estimated cost of the project was USD 1.2 billion inside Pakistan from its point of entry in Balochistan up to Nawabshah, the hub of the country's gas pipeline system. New Delhi has so far downplayed the agreements, officially only saying that it had price and security concerns which need to be addressed before it can join the project.
But, it may be preparing ground to formally quit the project. India's ties with Pakistan have dipped after Islamabad failed to act against culprits of 26/11 Mumbai terror attacks.
It sees a serious terrorist threat to the pipeline particularly in Baluchistan province, home to a militant Islamist separatist movement.
Instead, New Delhi wants to buy gas in its liquid form that can be shipped or through a deep-sea pipeline avoiding the Pakistani territory totally.
Under the Iran-Pakistan-India pipeline proposal, a 1,100-km pipeline from the South Pars gas fields in the Persian Gulf was to be laid by Iranian firms to Iran-Pakistan border.
A 1,035-km pipeline was proposed in Pakistan to connect to the gas grid in Pakistan as also carry India's share to Pakistan-India border.
The pipeline has been on the drawing board since the mid-1990s, when Iran and India inked preliminary agreements to transport gas through Pakistan.
It was dubbed the 'peace pipeline' because of hopes it would lead to a detente between neighbours India and Pakistan.
India had major disagreements with Iran on pricing and project structure of the IPI pipeline when it broke out of talks in 2007.
Tehran has been insisting that ownership of gas would be transferred at Iran-Pakistan border while New Delhi wants it to be Pakistan-India border thereby making Iran explicitly responsible for safe delivery of gas. New Delhi is also upset with Iran's frequent changes in gas price.
Iran had originally priced its gas at $3.2 per mBtu but later in 2007 revised the rates to $4.93 per mBtu at $60 a barrel crude oil prices, which was accepted by India.
Last year, it again revised it and according to the new pricing formula, the fuel will cost New Delhi $8.3 at $60 per barrel oil price at Iran-Pakistan border.
Added to this would be a minimum of $1.1-1.2 per mmBtu towards transportation cost and transit fee that India would have to pay for wheeling the gas through Pakistan, making it the most expensive fuel in the country, they said.
Sources said Iran was not willing to commit to a supply-or-pay regime wherein it would have been held accountable for non-delivery of gas at Indian border.
It, however, wants New Delhi to commit to a strict take-or-pay clause wherein India would have to pay even if it does not take deliveries.
All it now says is that if Pakistan were to disrupt supplies to India, Iran will make a proportionate cut in the quantities to be delivered to Islamabad.