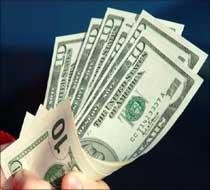 The food service sector in India attracted over $100 million (over Rs 450 crore) from private equity investors in the first half of this year, according to a report by Franchise India and Federation of Indian Chambers of Commerce and Industry.

"Private equity players are increasingly developing an appetite for the restaurant business -- be it burgers, pizza or specialty restaurants.

Till the second quarter of 2011, the food sector has attracted more than $100 million investments through PEs," according to the 'Food Franchising Report 2011' brought out by Franchise India and Ficci.

Within the retail space, the food category (fine dining, quick service restaurants, takeaways) has caught the fancy of investors.

Going ahead, at least half-a-dozen private equity deals are likely to be announced by the end of this year.

"There are at least five to six deals which should get finalised
within this year," Franchise India director Ritu Marya said.
"Venture capital and private equity players with mid to long-term plans are increasingly providing capital for these high gestation businesses," the report said.
Investors are looking forward to invest in chains that offer competitive pricing, good quality products and are poised to grow pan-India and are looking for a significant increase in valuation from entry to exit.
One recent example of PE investment in the food sector is ICICI Venture's $33 million investment in RJ Corp's Devyani International, which runs KFC, Pizza Hut and Costa Coffee chain across the country.
In another PE investment, Sagar Ratna, a South Indian food chain raised $35 million from India Equity Partner, while New Silk Route has invested $75 million in Coffee Day Holdings.
Private equity investment in the overall retail sector has witnessed a steady increase over the past few years and reached $372 million in 2010, the report added.