Chairman of Japan's Suzuki Motor Corporation Osamu Suzuki on Monday visited the violence-hit Manesar plant of the company's Indian arm Maruti Suzuki.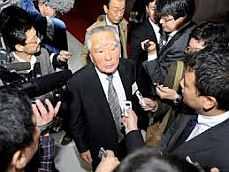 According to a company source, Suzuki inspected the plant, that was damaged during arson and violence on July 18 in which one senior official of Maruti Suzuki India (MSI) was killed and 100 others were injured, in the afternoon.

"He (Suzuki) also visited the powertrain facility at the Manesar unit apart from meeting the employees who were injured in the violence," the source said.

MSI top officials of MSI, including Managing Director and CEO Shinzo Nakanishi and Chief Operating Officer (Production) M M Singh, are understood to have accompanied Suzuki during his Manesar plant visit.

During his interaction with editors, Suzuki had reiterated that whenever he visited India to attend the
AGM of MSI, he visited both the Gurgaon and Manesar plants.
During his week-long trip in India, Suzuki has already met MSI employees at the Gurgaon plant apart from calling on Chief Ministers of Gujarat and Haryana. He will be attending the Annual General Meeting of MSI tomorrow before wrapping up his Indian sojourn.
The company had said the Manesar plant suffered damages less than Rs 10 crore (Rs 100 million) due to the violence, while the total production loss was estimated at about Rs 1,400 crore (Rs 14 billion).
MSI had lifted the month-long lockout of the plant on August 21 and has resumed partial production in the facility that rolls out the company's models such as Swift and Dzire along with SX4 and A-Star.
On Sunday, Nakanishi had said as against a target of rolling out nearly 900 cars planned in five days after lifting the lockout, 436 units were produced. In the next week production would be further ramped up.