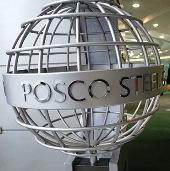 The Orissa government is likely to renew the memorandum of understanding with the South Korean steel major Posco for its 12 million tonne, Rs 54,000-crore (Rs 540-billion) steel plant in Orissa with incorporation of a clause on giving priority to locals in employment.
Posco India had entered into an MoU with the state government on June 22, 2005 and with the term of the agreement coming to end this month, it requires to be renewed.
"We would renew the MoU with Posco India. Though the broad terms and conditions of the pact are unlikely to be altered, the state government will only incorporate a clause which will make it compulsory for the steel major to set up an Industrial Training Centre and absorb locals for its project.
"The socio-economic survey for the Posco project has started recently and no land has been allotted to the company as yet", an official source told Business Standard.
The Posco steel project billed as India's single largest foreign direct investment, has made negligible headway at the ground level, mainly due to agitation over land acquisition spearheaded by the Posco Pratirodh Sangram Samiti for over four years.
The mega project needed 4004 acres of land in all out of which around 2900 acres constitute forest land. Land was to be acquired primarily at Dhinkia, Gadakujang and Nuagaon panchayats in Jagatsinghpur district.
The state government had recently suggested to Posco to give up 300 acres of private land at Dhinkia in the wake of stiff protests from the villagers there. Even as the socio-economic survey was underway for the Posco project, PPSS has intensified its protest in select pockets.
The talks of the PPSS members with the Revenue Divisional Commissioner (central range) P K Mohapatra failed to cut any ice as the PPSS members are steadfast on their demand to shift the Posco project out of its present site.
Meanwhile, six political parties including left parties like Communist Party of India, Communist Party of India Marxist and Forward Bloc, which are opposing the Posco plant, have proposed to Chief Minister Naveen Patnaik for discussion on various issues surrounding the project.
Besides Posco India, the state government is also mulling to renew the MoUs with nine more steel players which have made satisfactory progress on their projects but have been grappling with issues like grant of mining lease, availability of water and land acquisition.
The state steel and mines department had recently reviewed the project status of all the 49 steel players which have inked MoUs with the state government.
The cumulative capacity of all these projects was 83.66 million tonnes, entailing a total investment of Rs 2.3 lakh crore (Rs 2.3 trillion).