Modern organised retail will be helpful in containing inflation and allowing foreign direct investment (FDI) in multi-brand retail leads to development of back-end infrastructure that will benefit farmers, according to C Rangarajan, Chairman of the Economic Advisory Council to the Prime Minister.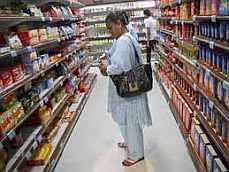 "Modern retail has been found to offer better prices to consumers than traditional retail, thus helping to contain inflation," he said in his inaugural address at a seminar on 'Organised Retailing vis-a-vis Farm Economy of India' held here on Friday.

According to Rangarajan, the decision to allow FDI in multi-brand retail would give a substantial boost to the retail sector. It would also lead to growth in related infrastructure as 50 per cent of the total investment brought in has to be invested in back-end infrastructure.

He said the fear that allowing FDI could result in large-scale replacement of small retailers was misplaced. "India is a vast country. There will be place for both large retailers and small farmers," he added.

On the flip side, Rangarajan pointed out, kirana, small and marginal traders would be affected once the share of the overall modern retail in food reached 25-30 per cent.

However, he said, these kirana stores and street hawkers could become a part of the modern retail change story if they could be assimilated into organised retail or upgraded through infusion
of capital and better training. They could also organise themselves through franchises.
Speaking to mediapersons, he said the FDI proposals in the retail sector were expected to be received in the next few months.  At present, it was not known how much FDI would flow into the retail sector in the country.
Better growth rate next year


With the government going into the reform mode, Rangarajan expects the growth rate next year to be better than the current year's projected rate of 6.7 per cent.
"Growth rate will improve over what we see in the current year. In the 12th Five Year Plan,we have projected a growth rate of 8.2 per cent, which means that the growth rate in the final year of the Plan period should be around 9 per cent," he said.
Diesel price hike to push up price index


Rangarajan said the immediate impact of hike in any administered price, including diesel, would jack up the price index. He, however, justified the recent diesel price hike by Rs 5 a litre saying in the absence of such a measure the fiscal deficit would be higher. "Over the medium-term, it is the best thing to do. The attempt is to keep the fiscal deficit as close as possible to what is indicated in the Budget," he said.
He said the current account deficit would decline to 3.5 per cent of the GDP this year from 4.2 per cent last year. Gold imports were expected to be lower this year. The coal imports would also decline on account of an increase in domestic production.