Analysts Wednesday said that sharing of optic fibre cable by telecom ventures of groups led by Mukesh and Anil Ambani is a win-win situation for both of them and shows their rational approach towards business.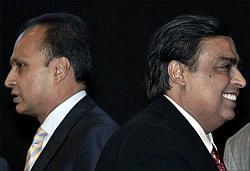 The Rs 1,200-crore (Rs 12 billion) deal, announced by Reliance Jio Infocomm and RCOM on Tuesday, also proves that Mukesh Ambani-led Reliance Industries (RIL) group would follow an "asset-light" approach for its telecom business, they added.

A number of investment banks in their research reports on Wednesday hailed the deal, saying it was strategic in nature for both cash-rich RIL and debt-laden RCOM, especially in the backdrop of difficult times prevailing in the telecom sector.

It is the first business collaboration between the two Ambani brothers ever since the parted ways with split of their family business in 2005.

The two firms have said that the deal is first in a comprehensive business cooperation framework for optimal utilisation of existing and future infrastructure.

"We believe this to be a win-win situation for both RIL and RCOM," analysts at Morgan Stanley said in their report.

"It should result in optimum utilisation of RCOM's existing untapped infrastructure, and RIL will avoid incurring huge capex, gaining access to readily available telecom infrastructure for its telecom/4G
foray.
"This is in line with our expectation that RIL will follow an asset-light approach for its telecom business, helping it to protect its Return on Capital Employed," they said.
While Anil Ambani-led Reliance Group is present in telecom business through RCOM, RIL group is gearing up to launch 4G services through Reliance Jio Infocomm.
Another report by Barclays said that the agreement was a positive for RIL and it gives it access to 120,000 km of nationwide intercity optic fibre network for a one-time fee for Rs 1,200 crore with no recurring charges.
UBS analysts in their report said that their "brief discussion with management suggests more such network/ infrastructure sharing arrangement, including tower sharing/ leasing will follow with RCOM/other vendors".
UBS report further observed that RIL's recent strategies, including its non-participation in 2G auction and signing of infrastructure sharing agreements, suggest a rational approach towards telecom business.
Analysts at Goldman Sachs said they see potential for more cooperation going forward, for example, in telecom tower or intra-city fibre network sharing, while adding that the deal was strategic merit from a long-term growth perspective.
Shares of RIL, however, fell in the stock market by 2.16 per cent to Rs 776.8, while those of RCOM closed 1.9 per cent higher at Rs 64.50 after paring most of the intra-day gains.