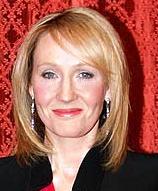 Media mogul Oprah Winfrey and Harry Potter author J K Rowling have been named among the world's richest self-made women, who have amassed personal fortunes of over a billion dollars, in a list compiled by Forbes.
Forbes said out of the world's 1011 billionaires, only 14 are women who earned their fortunes, rather than inherited them.
By contrast, 665 men are self-made billionaires including the three richest people in the world, Carlos Slim Helu, Bill Gates and Warren Buffett.
Among the 14 women, who represent just two per cent of all self-made billionaires, at least five of them started their business with their husbands, brothers or sometimes both.
The richest self-made woman is China's Wu Yajun, chief executive of real estate developer Longfor Properties.
Wu, with a net worth of $3.9 billion, had ranked 232nd in Forbes 2010 world billionaires list.
Others who got wealthy on their own include Winfrey, 56, and Rowling, 44, "Both of whom overcame tough personal odds to strike it rich in media and entertainment".
Winfrey, with a net worth of $2.4 billion, was 'born to single teenage mother, grew up on grandmother's farm in Mississippi, moved to Wisconsin where she says she was a victim of sexual abuse'.
Winfrey is wrapping up her daytime talk show 'The Oprah Winfrey Show' next year and launching a show in the night slot on the new Oprah Winfrey Network cable channel. Rowling's net worth is a billion dollars, making her the world's richest author.
Potter films based on her books have grossed more than $5 billion and her wizard tales have been translated into 65 languages.
While the last two Potter movies are slated for release this year and in 2011, a theme park 'The Wizarding World of Harry Potter' is opening on June 18 at Universal Studios, Orlando.
Rowling's 'personal story is nearly as magical: single mother living on welfare completed her first book in 1997. A year later Harry Potter and the Sorcerer's Stone was published in the US and became a literary sensation,' Forbes said.
Also on the list is Meg Whitman, former eBay head who recently won the Republican nomination for California governor.
With a $1.3 billion net worth, Whitman has spent an estimated $70 million from her personal coffers on the gubernatorial primaries and is willing to spend double that number to get elected.
Others in the list include Benetton group founder Giuliana Benetton, with a net worth of $2.1 billion and apparel firm Gap founder Doris Fisher with a $2.4 billion net worth. Seven of the 14 self-made female billionaires come from China.
The booming Chinese economy has been a big factor, creating more opportunities, giving them access to a huge consumer population and also cheap labour, Forbes said.
"All of these self-made female billionaires have impressive personal stories, but the dearth of them is itself a story, and begs the question of why so few," Forbes said.
One explanation has to do with the fact that while women in the United States start their own businesses at roughly twice the rate of men, they are still playing catch-up in most parts of the world, it added.
Further, women-led companies typically launch with capital at levels nearly 50 per cent less than those led by men and raise much less venture capital.
"Men tend to start businesses to grow them to be large and to be the boss while women start them to do something meaningful and to make a difference," Forbes said.
"Becoming a billionaire is not their objective," Forbes adds, "Instead they are typically more focused on building companies that reflect their values, provide employment opportunities, do what's important to them and have the opportunity to fulfill family goals".
Image: J K Rowling