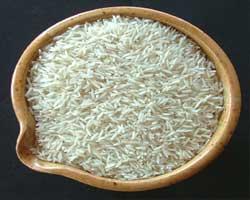 Opposition in the Lok Sabha on Thursday alleged a 'scam' in the export of non-Basmati rice to some African countries and demanded a probe by either the Joint Parliamentary Committee or Central Bureau of Investigation. But the government rejected their demand and instead promised to hold an internal inquiry.
Commerce Minister Anand Sharma said each and every transaction that has been implemented will be "examined", "responsibility will be fixed" and "nobody will be spared if any infringement of rules is found".
The entire Opposition, which was insisting on JPC or CBI probe into the "scam", expressed dissatisfaction with the government's response and staged a walkout.
"We are not sensationalising. But we ask the government not to trivialise the matter. We are not satisfied with the response and are staging a walkout," Leader of Opposition L K Advani said after Sharma rejected their demands saying the government should be given an opportunity to inquire on its own.
The matter was raised by Biju Janata Dal member Arjun Charan Sethi under Calling Attention Motion, who said that non-Basmati rice was exported to African countries despite a ban. He alleged a scam in it.
Sethi was joined by Janata Dal (United) leader Sharad Yadav, Basudeb
Acharia (Comunist party of India - Marxist), B Mahtab (Bharatiya Janata Party), Gopinath Munde (BJP) and Shailendra Kumar(Samajwadi Party), who wanted JPC or CBI probe.