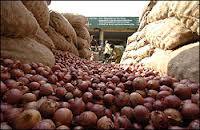 Onion production in the country is estimated to fall by 5 per cent in the crop year 2012-13 (June-May), Parliament was informed on Tuesday.

Country's onion output stood at 175.11 lakh tonnes in the crop year 2011-12, while in the year 2012-13 production is estimated at 166.55 lakh tonnes (provisional), Agriculture Minister Sharad Pawar said in a written reply in the Lok Sabha.

Replying to the question on domestic demand of onion, the Minister said: "The domestic demand for onion consumption is estimated at approximately 10 lakh tonnes.

"Besides, approximately 15-20 lakh (1.5-2 million) tonnes are exported, one lakh tonnes are used for seed production and 300,000-500,000
tonnes are processed every year."
He added that the National Agricultural Marketing Federation of India procured 676.18 tonnes of onion valued at Rs 230 lakh (2.3 billion) in 2010-11, whereas in 2011-12 procurement of onion stood at 944.35 tonnes valued at Rs 68.30 lakh (683 million) in 2011-12.
"NAFED did not procure onion in 2012-13," he said.
Onion is currently available at Rs 50-70 per kg in the national capital. Nafed is offering onions at a price of Rs 40 per kg through its 5 outlets and mobile vans.