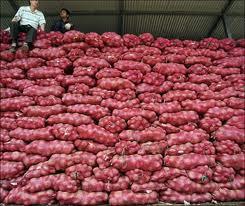 Onion prices remained high at Rs 60 per kg in Delhi today even though wholesale rates fell by Rs 5 per kg on increased supply.

In upmarket colonies, the bulb, a key ingredient in many Indian dishes, cost as high as Rs 70-80 a kg.

Mother Dairy's 350 outlets in NCR were selling the commodity at Rs 52 per kg.

"Supplies were normal on Monday and today as a result of that prices marginally came down to Rs 45-50 per kg from the yesterday's level of Rs 50-55 per kg in the Azadpur Mandi here," Azadpur Mandi Traders Association General Secretary Rajendra Sharma told PTI.

Sharma noted that number of
trucks arrived on Monday evening and today have eased the prices.
"So far 72 trucks carrying onion have arrived in the market today," he said.
Onion's prices on Monday shot up by Rs 10 per kg to Rs 50-55 per kg in the Azadpur Mandi on lower supply. At Lasalgaon in Nashik, Asia's largest wholesale market for onion, has slightly came down to Rs 45 per kg today from Rs 46 a kg, National Horticultural Research and Development Foundation data showed. Model rate, at which bulk of the onion is being traded, at Lasalgaon today was at the yesterday's level of Rs 43 per kg.
India has exported 6.39 lakh tonnes during April-July period of this fiscal compared with 6.94 lakh tonnes in the year-ago period. Production stood at 16.6 million tonnes in 2012-13.