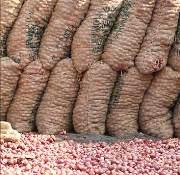 The government on Monday decided to suspend onion exports till January 15 following skyrocketing prices at around Rs 60-70 a kilo due to "hoarding and speculation".

Agriculture cooperative major Nafed, which along with 12 other agencies regulates onion exports, have been asked to stop giving fresh clearance to exporters from tomorrow till January 15 next year.

"There will be voluntarily suspension of issuance of No Objection Certificates (NOCs) by NAFED, NCCF and other STEs for exports", an official statement said.
It said NAFED and NCCF (National Consumer Cooperative Federation) will sell onion at cheaper rates from tomorrow through their retail outlets.

The government has more than doubled minimum export price (MEP) to $1,200 per tonne from $525 for exporters who have already got no objection certificates (NOC).

"The NOCs which have already been issued till today will be effected only on $1200 per tonne cost and freight," the statement added. Asked about the reasons for the sharp rise in onion prices, Commerce and Industry Minister Anand Sharma said: "price rise is because of hoarding. There is enough stock of onion in the country".

Stating that MEP has been raised substantially, Sharma said: "We will make it (exports) prohibitive till the domestic situation improves". However, traders in Delhi's main wholesale market at Azadpur said the rise in prices were due to shortage of supply from the main producing regions.

Onion prices have soared to Rs 60-70 per kg in the retail markets in Delhi and many other important cities of the country from Rs 35-40 a couple of days ago.

The decision to suspend exports was taken at an emergency meet of the Price Fixation Advisory Committee for fixing MEP.

The meeting was chaired by Nafed Managing Director Sanjeev Chopra and attended by representatives from ministries of Agriculture, Consumer Affairs and Commerce. Chopra accompanied by Secretary Agriculture P K Basu later briefed Agriculture minister Sharad Pawar on the matter.

A senior government official said members were "baffled" over the "unprecedented" rise in prices of onion since Saturday and doubted speculative forces behind it.

"The damage to the crop due to unseasonal rains in bulk producing states of Maharashtra, Gujarat and Southern states would not have been more than 15-20 per cent. The unprecedented rise in onion prices in past three days in Delhi and other cities are not understandable," the official said.

The official said that Nafed and National Consumer Co-operative Federation (NCCF) will sell onion at subsidised rate in between Rs 35-40 from tomorrow to provide succour to common man from the scathing onion prices.