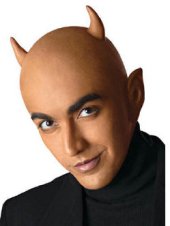 A 'new age couple' has been chosen to replace the iconic 'Devil' ad mascot of Onida, the consumer electronics brand.
As already reported, Mirc Electronics, the company, and its advertisers had decided that the now-legendary ad campaign had outlived its utility in the Rs 50,000 crore (Rs 500 billion) and growing consumer durables industry.
Says Sriram Krishnamurthy, vice president of sales, services and marketing at Onida: " For over 20 years, Onida relied on the Devil to give its brand, image and recall. But things have changed. People have become a lot more individualistic.
"They don't aspire for what their neighbours own but mostly go by what they like. The new Onida needs to fit into their lifestyles by understanding their latent needs better and delivering quality products with thoughtfully designed features. This will be the core driver for Onida across its business and marketing processes."
The company also said the mascot seemed to have lost its fundamental association. "A lot of viewers we surveyed just referred to it as the seenghwala (man with horns)," says Krishnamurthy.
With the new focus, the firm is doubling its advertising and marketing spending to Rs 100 crore (Rs 1 billion) this year on new campaigns for its products.
To talk to an audience between 20 and 30 years of age, Onida will depict a newly-married couple, personified by Siddharth and Ritu, both Bollywood actors, and weave in its products while facilitating the setting up of their first home.
"The protagonists will be the same in the various product ads," adds Krishnamurthy. This will present Onida as a cross-category player, rather than its earlier image of a television company.
Onida is restructuring its core organizational processes to strengthen the link between consumer insights and product design. This ethos is exemplified by their new tagline. Tumko Dekha Toh Yeh Design Aaya.
"We are confident that the new campaign will put us on an accelerated growth path. Last year, our turnover was Rs 1,600 crore (Rs 16 billion) and with this new campaign, we hope to achieve a turnover of Rs 2,000 crore (Rs 20 billion) this financial year," said Sriram.
The new products include a Onida Atom DVD player which has a USB port and a SD Card Reader that enables users to play their favorite movie downloads or music directly on the DVD without having to burn a disc.
To increase its penetration in the washing machine segment, where it has a 15 per cent market share in semi-automatic washing machines and 6-7 per cent in fully automatic ones, they have introduced a new front loading product.
In addition, Mirc is setting up a multi-category plant at Roorkee in northern India and operations are expected to commence within a few months, with an investment of Rs 60 crore (Rs 600 million), which will start with the manufacturing of washing machines.

"This is to reinforce our presence in the North. The market presence for consumer durables in the North is very big and nearly 70 per cent of revenue comes from here. The overall market size of consumer durables in the North is 35 per cent," says the CEO, G Sundar.
Onida expects the campaign to raise its share in the non-LCD television market from 11 to 13 per cent and in DVD players from 10 to 15 per cent by the end of the year.
The campaign is also aimed to bring its range of mobile phones into mass focus. Onida had released its range to distributors in a soft launch to test the markets and gauge feedback last year.