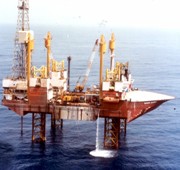 The government has approved $5.25 per million British thermal unit as the price of gas produced from Oil and Natural Gas Corporation's C-Series fields in Mumbai offshore.
State-owned ONGC had initially sought $5.5 per mmBtu but the oil ministry last month approved a price of $5.25 per mmBtu, a senior ministry official said.
Natural gas produced from C-Series fields is sold to GAIL which further markets it to end users.
ONGC began production from C-Series fields last month and is currently producing between 0.8 to 1.2 million standard cubic meters per day from 6-7 wells drilled to date. Peak output of 2.8 mmscmd will be reached once all the 15 wells are drilled, which may happen post monsoon.
The official said the price approved for C-Series field is about a dollar more than the price at which Reliance Industries Limited sells gas from the nation's biggest gas field in Krishna Godavari basin off the east coast.
Reliance gets $4.215 per mmBtu for the gas it produces from KG-D6 fields off the Andhra coast.
The price is fixed for the first five years of production -- till March 2014. KG-D6 gas production began on April 2 and is slated to rise to 80 mmscmd by year-end, nearly doubling the nation's gas output.
The official said according to the production profile given by ONGC, the peak output of 2.8 mmscmd from C-series will last 5-6 years.
The price for C-series fields is lower than what GAIL pays for gas from the western offshore Panna/Mukta and Tapti or PMT, fields that are jointly owned by British Gas, Reliance and ONGC.
GAIL pays $5.7 per mmBtu for PMT gas, compared to $4.3 per mmBtu for Cairn India-operated Ravva field off the east coast.
None of the prices, include transmission charges, marketing margins or local levies on gas sales.
ONGC sells a large chunk of its gas at the government controlled price, which was recently revised to $4.2 per mmBtu.
The company has invested Rs 3,195 crore (Rs 31.95 billion) to develop the C-Series marginal field that is estimated to hold in-place reserves of 15.54 billion cubic metres of gas and 4.46 million cubic metres of condensate.
The C-Series field, was discovered in 1990s and is about 60 km west of Daman in the Tapti-Daman block offshore Mumbai at water depths ranging from 19 meters to 35 meters, but considered marginal at the pre-revised price of $1.79 per mmBtu that ONGC got for most of its gas.