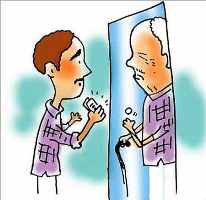 Pension woes of old and disabled retired employees may become a thing of past as the government is trying to ensure delivery of pension funds at their doorstep besides ensuring that pension payment order is handed over on the retirement day itself.

The Department of Pension and Pensioner's Welfare is working on this front with the vision of ensuring a life of dignity for pensioners, Minister of State for Personnel, Public Grievances and Pensions Jitendra Singh said.

"The goal is to ensure 100 per cent payment of all retirement dues and the delivery of pension payment order to retiring employees on the day of retirement itself," Singh said at the first interactive conference with state secretaries (pension) in New Delhi on Thursday.

The minister also said that for old and disabled pensioners, there should be 'a mechanism for delivering pension at the doorstep'.

Invoking Prime Minister Narendra Modi's mantra of 'skills, scale and speed', Singh said the Department of Pension should look into the urgent need to utilise the skill and experience of the pensioners for the betterment of the society.

"This was specially necessary in view of the increase in the number of retiring employees and increased life span," he said.

The minister suggested that pre-retirement counselling workshops, which are being institutionalised by the Department of Pensions for the central government retiring employees, should also be organised by the state governments for its employees.

"Workshops should also be geared to prepare even the younger employees to be ready to face life after retirement," he said.

The Pension and Pensioner's Welfare department has taken a number of steps like review of forms and simplification of procedures.

An online Pension Sanction and Payment Tracking System called 'BHAVISHYA' has been launched.

"By ensuring complete transparency, this system would obviate delays in sanction and payment of pension," it said.

In furtherance of Modi's idea that benefits should reach all the states and not merely be restricted to the Centre, the department had convened a meeting-cum-workshop with pension secretaries of the state governments to share information, experience and best practises on pension matters.

The workshop was attended by 23 states and Union Territories.

There are about 50 lakh (5 million) central government employees and 30 lakh (3 million) pensioners.
Illustration: Uttam Ghosh/Rediff.com