The Petroleum Ministry has asked the oil regulator to look into the marketing margin charged by not just Reliance Industries, but also state-owned GAIL India Ltd on the sale of domestic gas and imported LNG.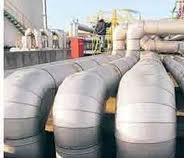 "We have asked the Petroleum and Natural Gas Regulatory Board (PNGRB) to determine the quantum of marketing margin that a marketer of gas can charge from consumers. The PNGRB will look into marketing margins charged on all gas, including imported LNG," a top ministry official said here.

While the USD 0.135 per million British thermal unit marketing margin that RIL charges on the sale of eastern offshore KG-D6 gas has been questioned by users like fertiliser units, GAIL's higher marketing margin on gas produced from domestic fields as well as imported liquefied natural gas (LNG) has so far gone unquestioned.

GAIL charges a USD 0.20 per mmBtu marketing margin on gas produced from the BG Group-operated Panna/Mukta and Tapti fields in the Western Offshore and a similar margin on the sale of LNG imported by Petronet LNG Ltd.

While RIL's marketing margin is fixed for the five-year period ending March 31, 2014, the margin charged by GAIL on PMT gas and LNG increases by 5 per cent every year.

GAIL also charges a fixed marketing margin of USD 0.11 per mmBtu on selling gas that state-owned Oil and Natural Gas Corp (ONGC) and Oil India Ltd (OIL)
produce from domestic fields.
It was argued that the Oil Ministry can ask the regulator to regulate marketing margins of only domestically produced gas, but the official said the ministry has asked the PNGRB to look into all margins charged by any gas marketing entity.
"The Petroleum Natural Gas Regulatory Board has now been entrusted the determination of the quantum of marketing margin chargeable on sale of natural gas to end-consumers by a marketing entity on the basis of the marketing costs incurred by it," the ministry wrote to RIL on January 12.
RIL had questioned the move to regulate the marketing margin, which was in lieu of the risks and costs incurred on marketing the gas. It is to cover risks like seller liabilities in case of non-supply, customers drawing less than their quota, non-payment of dues and settlement of disputes.
GAIL is not comfortable with the idea of regulating a marketing margin on a free market commodity like LNG. Unlike domestic gas, the government, it feels, has no role in either fixation of the price of LNG or its users and so the marketing margins, too, should not be regulated by it.
The official said the ministry decided to refer the determination of the quantum of marketing margin to the PNGRB after the fertiliser ministry questioned the margin charged by RIL.