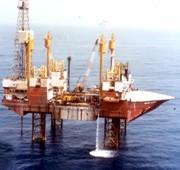 Oil India Ltd is in talks with Irish exploration firm Petroceltic International Plc to acquire up to 20 per cent in an Algerian asset of the company for $170 million (Rs 1,010 crore today).

This comes just a week after Oil India and Oil and Natural Gas Corp agreed to buy a 10 per cent stake in the Rovuma Area 1 block, off Mozambique's coast, from Videocon Group for $2.48 billion.

"This will be a natural gas producing asset. We would be paying $20 million upfront and the rest at a later stage.

"The deal will be sealed in the next few months," a senior Oil India official said on Monday on the sidelines of a press conference here.

Petroceltic is headquartered in Dublin with offices in Edinburgh, London, Algiers, Varna, Cairo and Rome.

Oil India has sought up to 20 per cent stake in Petroceltic's Isarene production sharing
contract in Algeria.
Petroceltic on its website says it is the operator of the Isarene project.
Enel SpA, an Italian company, holds a participating interest of 18.37 per cent, while Sonatrach, another Italian firm, holds a 25 per cent interest.
The Oil India official, however, refused to divulge details about how the state-run firm would finance the deal.
For its Mozambique deal, Oil India plans to raise funds via overseas debt.
It would pay $1.6 billion for its four per cent share in the block.
ONGC Videsh Ltd, the overseas arm of ONGC, will hold six per cent in the block.
"Around 80-90 percent of the amount will be raised via overseas debt.
"We are a debt-free company and it would be good to take advantage of low interest rates," said T K Ananth Kumar, director finance, Oil India.
Oil India is also planning to raise $250 million via external commercial borrowings to finance its ongoing domestic projects, Kumar said.