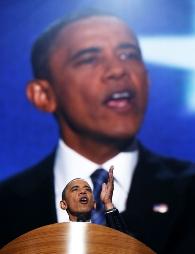 President Barack Obama has called for building world class infrastructure in the US, maintaining that countries like China are forging ahead in the sector.
"The longer we put this off, the more expensive it will be; the less competitive we'll be," Obama said in his speech on economy in Jacksonville, Florida, and urged the Republicans not to make it a partisan issue.
"Making sure we've got world-class infrastructure, that shouldn't be a partisan issue. That's an American issue. It's not a Republican or a Democratic issue," he said.
"There's a bipartisan bill in the Senate to fund critical improvements in our highways and our bridges, our transit and rail systems and our ports like this one. And so the House should act quickly on that bill," said the US President.
"Let's get more Americans back on the job doing the work America needs done. That will be good for middle-class families. That will be good for middle-class security," he said.
Noting that under his administration the US has cleared away the rubble from the financial crisis, Obama said, "Thanks to the grit and resilience of the American people, and we've begun to lay a new foundation for stronger, more durable more sustainable economic growth."
"And with the revolutions that are coming in energy and technology and manufacturing and health care, we're poised to be able to finally reverse some of those forces that were hurting middle-class families for so long," Obama said.
Emphasising to rebuild the US economy, the US President said, "We can start rebuilding an economy where everybody who works hard can get ahead. That's our goal. "But I'm here to tell you today what you already know we're not there yet."
"In a lot of ways, those trends that have been building for decades, this winner-take-all economy where a few folks are doing better and better and better at the top, and
everybody else is just treading those trends have been made worse by the recession. And reversing those trends should be Washington's highest priority. It's my highest priority," he said.
Obama said as Washington prepares to enter another budget battle, another budget debate, the stakes could not be higher.
"At a time when we need to make investments to create jobs, and strengthen the middle class, and grow our economy -- because we've got competition coming from all around the world -- we've got some of the House Republicans who put forward a budget that does just the opposite. They're pushing bills that would cut education, cut science, cut research, prevent us from meeting these priorities," Obama said.