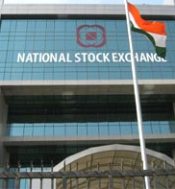 The National Stock Exchange has regained its position as the world's largest bourse in terms of volumes in equity trades, in June, latest data by World Federation of Exchanges shows.

After maintaining its lead in the first three months of 2013, for equity trading volumes, NSE had slipped to the second slot in April and May.

Despite witnessing a fall of 9.7 per cent in its equity trades last month, NSE registered a total of 11.2 crore (112 million) trades on its platform, making it the world's top exchange on this parameter among the 50 bourses listed with WFE.

Meanwhile, NSE was also ranked first in number of equity trades for the first half of 2013 with a total of 71.18 crore (711.8 million) trades.


In June, NSE was followed by NYSE Euronext and Nasdaq OMX at the second and the third positions. NYSE Euronext and Nasdaq recorded 10.65 crore (106.5 million) and 9.88 crore (98.8 million) trades, respectively in their equity segments.
China's Shenzhen SE, which emerged as the top bourse in May, has slipped to the fourth place.
The exchange recorded a total of 8.44 crore (84.4 million) trades in June.
Another major Indian bourse, BSE, stood at the eighth place with 2.44 crore trades on its platform. While the total number of listed companies is much larger in case of the BSE, the exchange lags behind NSE significantly in terms of volume and value of trades. Others among the top-ten for June included Korea Exchange (5th), Shanghai SE (6th), Japan Exchange Group -- Tokyo (7th), Canada's TMX Group (9th) and BM&FBOVESPA (10th).