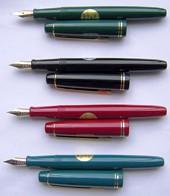 Writing instruments manufacturer Pilot has launched a new pen, Frixion Ball, with thermo sensitive ink that helps erase mistakes.

Pilot Frixion Ball contains a thermo sensitive ink that disappears when subjected to heat by friction.

With a few flicks of the end-stub, the ink disappears almost instantaneously, allowing users to write, delete and repeat with no worries, making it perfect for secret messaging, crossword puzzles and everyday use, it added.

This thermo-sensitive Gel ink becomes translucent when subjected to heat caused by Friction (at 650C).

To reactivate the ink, the writing has to be subjected to freezing temperatures of about -100C.

The user could erase by rubbing with debris-free
end stub, sans the help of a rubber eraser or ink eradicators.
Imported, Packed and Marketed by Luxor Writing Instrument Pvt Ltd, Pilot Frixion is targeted at those who constantly grapple with writing errors or want convenience in writing, deleting and retrieving words, the release said.
Pilot Frixion has been launched in eight vibrant colors such as blue, black, green, purple, pink, red, orange and light blue with a 0.7mm cone tip.
Luxor Group executive director Pooja Jain said, "Frixion pens are a result of constant research effort over a period of 32 years by Pilot Japan."