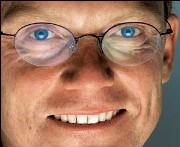 Jaap Haartsen, the inventor of Bluetooth technology, believes Bluetooth will get its due attention with gadgets like tablet PCs and smartphones.

Haartsen made his entrepreneurial debut with Tonalite BV that makes wireless wearable products, in 2010. On his maiden trip to India to address students at the Indian Institute of Technology-Bombay, he spoke about his entrepreneurial venture and the evolution of Bluetooth.

Are you happy with the way Bluetooth has evolved?

I was involved with the evolution of Bluetooth only in the beginning. But I think that the Bluetooth Special Interest Group has done a great job in keeping a strict control on technology and not allowing it to be hampered by issues of piracy.

They have also done a good job in terms of the release of the technology versions. However, I feel that all improvements cannot be termed as real improvements.

...is that the reason why you decided to become an entrepreneur?

Prior to starting my own company, I was with Sony Ericsson. In 2009, Sony Ericsson decided to close a large number of their overseas sites, one of them was in Emmen, Netherland.

It was then that we decided to start a new company with a subset of the Emmen team.

What improvements in Bluetooth would you like to address?

Power consumption and contact awareness combination is an area that we are focusing on. We think issues like power consumption in relation to what happens in the background is not understood by many.

People are not aware that radio beams are being set-up and broken in the background and its very dynamic. This will happen with new scenarios and development.

To give an instance, if you are in a room or in a car, the environment is different. If I have a headset and I am in a car it should sync with my car system.

And if I am at home it will need to sync with my laptop or home-stereo. We do not want the user to go through making an effort to choose the medium. But to do so remotely would mean higher power usage.

Considering you are working on some products, when can we see them hit the market?

Well you can make a product in a year or so. But getting people to adopt it is a bigger challenge.

Even in the case of Bluetooth, there was a hype curve and then the actual adoption followed. We are still a very small company and we do business with other firms.

Our focus is to develop wireless wearable products and support implementation of technology for the wireless system in portable host devices.

Do you think Bluetooth has lost its significance and Wi-Fi is a better option?

Wi-Fi from the beginning has focused only on Internet access. That's just one aspect. But Bluetooth has diverse uses.

In 2010, almost two billion units of Bluetooth gadgets were sold globally, that shows it is well adopted.

...but you do agree that there are limitations to the technology like data packages, speed and security?

I am not a security expert but I do feel Bluetooth is safe. The point is Bluetooth was made with a low-cost and low-power usage criteria in mind.

The cost of a Bluetooth is less than $5. Besides, Bluetooth is based on radio technology. Radio is very simple and it does not support high data runs.

The Bluetooth Special Interest Group has tried to solve this issue by engaging with other radio. So Bluetooth and Wi-Fi working in tandem is an instance.

Analysts believe that Bluetooth does not have much use, especially in markets like India?

It depends on what kind of a device you have and what is its usage. I think now is the time for Bluetooth to get its due attention.

There are products like the iPad (tablet PC) and smartphones that are coming in the market with touchscreen.

We have seen Bluetooth uptake in voice headsets. We have seen this in India and Asia, as well as the US and other markets.

Other than music streaming and connecting phones, Bluetooth could have been adopted in the medical industry. Why haven't we seen that happening?

The medical industry is very conservative. They still use paging systems that were developed 40 years ago.

But you have to make a difference between life-saving devices and application-related technology.

I do not think bluetooth as a technology will stand the quality for critical usage. It has nothing to do with bluetooth but radio, which is not too reliable.