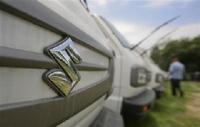 Hit by repeated incidents of labour unrest, Maruti Suzuki India expects car production at its Manesar plant to reach normal levels only by the end of December.
Speaking to analysts on Monday, a Maruti Suzuki India spokesperson said the company was ramping up output at the Manesar unit following a tripartite agreement between the management, workers and Haryana government to end a 14-day strike on October 21.
"The situation at Manesar is normal... By the end of this quarter, we will reach the normal level of production at the plant," the official said.
The Manesar plant was rolling about 1,200 cars every day before the first strike hit in June. The unit produces Maruti Suzuki's Swift, A-Star and SX4 models.
The 14-day-long strike at the plant, causing an estimated over Rs 700 crore (Rs 7 billion) loss, was called off following a tripartite agreement that reinstated 64 dismissed permanent workers and took back 1,200 casual workers.
However, 30 permanent workers remain
suspended.
"Lots of initiatives were taken while reaching the agreement, which is targeted for a long-term solution. The atmosphere was positive and constructive when it was signed," the spokesperson said.
As per the agreement, a 'Grievance Redressal Committee' and a 'Labour Welfare Committee' would be set up.
Talking about work practices at the Manesar plant, the official said: "Fundamentally, there is nothing wrong in the practices, as the same have been there in Gurgaon for the last 30 years. Probably there was some misunderstanding and miscommunication... We could have done a better job there."
Earlier, in June, workers at the Manesar plant went on a 13-day strike demanding the recognition of a new labour body, Maruti Suzuki Employees Union.
The stir had resulted in a production loss of 12,600 cars, valued at about Rs 630 crore (Rs 6.3 billion).
From August 29, the company again witnessed a 33-day standoff when the management prevented workers from entering the plant without signing a 'good conduct bond'.