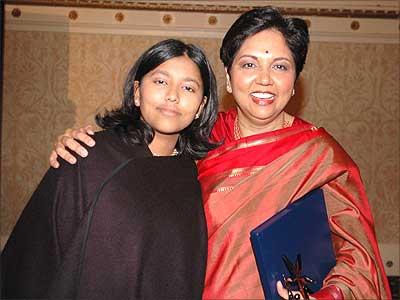 PepsiCo CEO Indra Nooyi's efforts to promote equality of women in business goes way beyond designing a maternity deal, but when it comes to choosing the American President she says only the best will do regardless of gender or race.
India-born Nooyi, who broke many barriers to become the US food and beverages giant's first woman chief executive, said that in her view having the best president was more significant than having the first woman President or African-American President.
In an interview to CNBC European Business magazine, she said the biggest challenge she faced in making the corporate climate inclusive for women was figuring out how to accommodate women or people with special needs in the workforce without burdening those who have to compensate.
"We know the problem, but we're still trying to find the solution," she said when asked by interviewer Simon Hobbs if the culture she has created was more important overall, then, say a maternity deal.
Nooyi, who after much struggle overcame the personal guilt of not giving enough time to her family, said PepsiCo has created a very specific diversity and inclusion programme.
"We set goals and time frames and held people accountable for getting to them. The first step was getting people in, but that's only half the problem because if they leave it's more painful for the organisation."
"Step two is inclusion. For example, if a woman says something, don't immediately interpret it as if a man said it, or expect a woman to react to a comment in the same way as a man. You will have a different dynamic with women, African-Americans or Latinos because each group is a product of their socio-economic culture," she said.
Asked to describe what kind of a manager she was in daily life, given reports that she cross-examines employees' spouses, Nooyi said: "Look, I don't want people's questions about PepsiCo to be silences by people's employee husbands or wives. I want them to be able to talk to me... because they are the extended family."
On her own plans to enter Washington politics, Nooyi, who said that having the first woman President or first African-American president would be 'frame-breaking,' clarified that all that she wanted was to "at some point, I would like to give back to the country."
The PepsiCo chief, who had a conservative, south Indian upbringing with many contrasts like growing up in a Hindu household but going to a Roman Catholic school, said she grew up with her mother who believed "we could achieve anything we put our minds to (and) encourage us to dream of becoming prime minister or president."
Nooyi, who was named PepsiCo's fifth CEO in 2006, said that her mother made her learn Indian classical music because that's what good Indian girls did, but she also let her be in a rock band.
"You've got to be a good Indian woman first," she quoted her mother as saying, and also to "go ahead and dream." --PTI