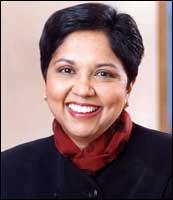 Indra Nooyi, president and chief financial officer, PepsiCo, Inc, has been elected to the board of directors of the Federal Reserve Bank of New York for a term ending in December 2006.
Nooyi was elected for the unexpired portion of a three-year term ending December 31, 2006, succeeding Denis M Hughes, president of New York State AFL-CIO, as a class B director. Hughes was appointed a class C director in December 2005.
The board of directors of the Federal Reserve Bank of New York consists of nine members, three of whom are appointed by the Board of Governors of the Federal Reserve System as class C directors.
The remaining six (three class A and three class B directors) are elected by member banks in the Second Federal Reserve District.
Class A directors are drawn from among the banking community. Class B and C directors are individuals chosen from professions outside the banking community and typically represent business, industry, agriculture, labor and consumers.
At PepsiCo, Nooyi is responsible for the corporation's finance, strategy, supply chain, business process optimization, corporate platforms and innovation, procurement, investor relations and information technology functions.
Prior to joining PepsiCo in 1994, Nooyi was senior vice president of strategy and strategic marketing for Asea Brown Boveri, and vice president and director of corporate strategy and planning at Motorola.
She holds a BS from Madras Christian College in India, an MBA from the Indian Institute of Management in Calcutta and a master's degree in public and private management from Yale University.
Nooyi also serves on the board of directors of PepsiCo Inc. She also serves as Successor Fellow at Yale Corporation and sits on the advisory board of the Yale School of Management. She is a member of the boards of Motorola, the International Rescue Committee, Lincoln Center for the Performing Arts and the Asia Society, and currently serves as a member of the Trilateral Commission.
Do you want to discuss stock tips? Do you know a hot one? Join the Stock Market Discussion Group.