American retail company Walmart will not have a new cash-and-carry or wholesale store in India till the last quarter of 2015. Its 20th store in the country was opened in end-2012, after which the company froze expansion plans due to internal investigations into possible violations of the Foreign Corrupt Practices Act and subsequently a break-up with Indian partner Bharti Enterprises. The investigations are yet to conclude, Krish Iyer, Walmart India president and chief executive, told Business Standard on Friday.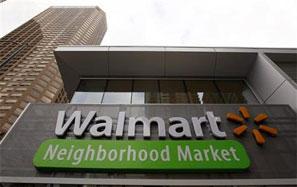 In the absence of a conducive environment for rolling out supermarkets or multi-brand stores in the country, Walmart has opted to focus on cash-and-carry, which allows 100 per cent foreign direct investment (FDI). Multi-brand policy caps FDI at 51 per cent, besides imposing other restrictions. Also, the current Bharatiya Janata Party government is opposed to FDI in multi-brand retail.

In April, Walmart's then Asia head Scott Price had announced expanding Indian cash-and-carry stores from 20 to 50 over the next five years. However, the process from identifying locations to obtaining regulatory approvals takes some 23 months, according to Iyer. That means the 21st store can come not before the fourth quarter of 2015, after three years.

The American chain can however acquire a few stores from French group Carrefour, which may decide to exit the Indian market.

Iyer refused to comment on the speculation about buying Carrefour stores. Of five Carrefour stores in India, Walmart could be keen on three — Delhi, Bangalore and Jaipur — where the US group does not have any presence. Carrefour did not comment when asked about an exit plan.

For the new stores, Walmart is expected to look at the nine states where it has outlets, to exploit the economies of scale. "Fifty stores are sacrosanct," said Iyer. Other companies pursuing cash-and-carry business in India, including Mukesh Ambani-promoted Reliance Retail and German chain Metro, are on an expansion spree in India.

It is in e-commerce where Walmart is expected to go all out, initially through a cash-and-carry pilot from Lucknow and Hyderabad from July.

The company plans to cover all cities where it has its stores for e-commerce service by January 2015, according to Iyer.

The company is likely to offer a combination of 'home delivery' and 'click and collect'; the second model is popular in the UK where customers can order online but collect the products from the store.

To begin with, the company will not offer fresh (fruits and vegetable) and frozen products in its e-commerce assortment. Also, unlike the other e-commerce companies operating in India such as Amazon, Flipkart and Snapdeal, Walmart is not looking at large-scale hiring for its online category. Hiring will significantly increase before store openings, Iyer said.
Lowest prices
Walmart had announced in April it will open 50 stores in 5 years
E-commerce pilot for wholesale begins from July in Hyderbad and Lucknow
Plans to take e-commerce across 9 states by January
No immediate plans to budge from wholesale format as FDI in e-commerce likely to be allowed
Not looking to add substantially to its 4,000 staff