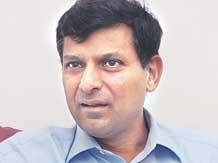 The Union finance ministry on Sunday ruled out a sovereign bond issue in the international market to fund a widening current account deficit.

"There is no reason to go and issue a sovereign bond in the international market.

"Certainly not foreign exchange-denominated bonds (or) even a rupee bond, given that our focus is on easing access to Indian sovereign rupee markets and increasing liquidity here and raising depth here.

:It seems that's (domestic bond markets) the safer way to finance than to go outside and issue a bond," said Chief Economic Advisor Raghuram Rajan, at a seminar at the annual meeting here of the Asian Development Bank.

He, however, said over the long term, these dynamics could change.

"I am not saying these things will never change. . .at this point, there is no reason to look at it (sovereign bond issue)," he said.

Earlier, finance ministry officials had said sovereign bonds could address the financing problems of the CAD and the infrastructure sector.

While the CAD, which swelled to 6.7 per cent of gross domestic product in October-December 2012, is expected to be lower in the January-March quarter, aided by a surge in exports, the issue of infrastructure financing can be better addressed, they say, by external commercial borrowing and infrastructure debt funds.

The Union government had first issued quasi-sovereign debt bonds through State Bank of India in 1991, when the country was facing a balance of payments crisis.

These were again issued in 1998, when we faced sanctions from the US, following the second Pokhran nuclear tests, and in 2000, to buttress foreign exchange reserves.

Today, however, its forex position is comfortable, at $296 billion.

The government has not dug into its dollar reserves despite a higher CAD, except marginally in the second quarter of 2012-13.
Image: Raghuram Rajan | Photograph, courtesy: Business Standard