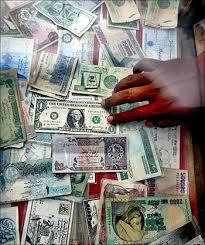 The Reserve Bank is not buying dollars from the market to shore up the reserves and the rise in that was due to the forex swap windows it had opened in September, RBI Governor Raghuram Rajan said on Wednesday.

"We are not targeting an exchange rate and, therefore, we are not going into the market and buying reserves at this point to increase the foreign exchange reserves," Rajan said at a post-policy press conference.

"We have not done that (bought from the market) and the increase in reserves thus far has come from those (the FCNR-B and banks' forex swap window) windows," he said.

Through these two windows, RBI mopped up a whopping $ 34 billion during the 3-month period ending November 30.

"Our forex reserves are built up on the back of the FCNR- B deposits and the capital window that we opened where we took the money directly into the reserves," the Governor added.

The forex kitty swelled for the fifth week in a row during the week ended December 6 to $295.71 billion, adding $4.41
billion. Between August 30 and December 6, the reserves have increased by close to $17 billion.
According to the latest RBI data, forex currency assets, which form a major part of the overall reserves, jumped by $ 5.019 billion to $268.755 billion during that week.
In the week ending November 29, the reserves recorded the single biggest weekly gain since October 2011 surging by a whopping $5.04 billion.
On assuming office on September 4, Rajan had announced a special window for banks to swap fresh FCNR-B dollar funds, mobilised for a minimum tenor of three years, at a fixed rate of 3.5 per cent per annum.
He had also allowed banks to borrow up to 100 per cent of their tier-I capital from overseas, which can be swapped with the central bank at a concessional rate of 100 basis points below the ongoing swap rate prevailing in the market.
The rupee, which had plunged close to 30 per cent between April and August, got some respite after Rajan took over announced these measures to prop up the local currency.
The rupee had since gained 11 per cent between September and November.