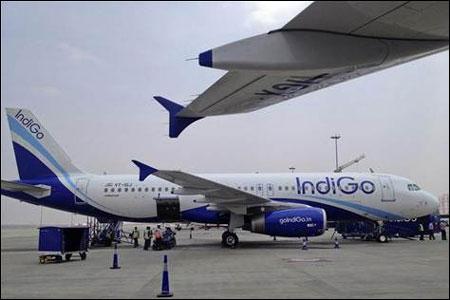 Low-cost airline IndiGo on Tuesday said it has no plans to take on-board an overseas partner to expand its business.
"We are not looking at any investment... so it does not matter to us. We are certainly not looking at investment by foreign airlines at this point of time," IndiGo President Aditya Ghosh told reporters on the sidelines of an All-India Management Association summit.
The Gurgaon-based carrier, run by InterGlobe Enterprises, is the market leader with 27.6 per cent market share as of August, unseating the long-time market leader Jet Airways Group, which also runs a budget service Jet Konnect that enjoyed a combined pie of 25.2 per cent during the same period.
Ruling out any downward revision in fares, following the two full service carriers - Air India and Jet Airways - announcing special promotional rates during the upcoming festival season to woo passengers, Ghosh said his no-frills airline's fares are always low.
"We always maintain low fares irrespective of the trends or the seasons," he said. Ghosh said IndiGo's strategy is not to segregate fares based on days or nights or on particular promotions or schemes.
He said any price increase in the coming days will be driven more by airport and fuel charges than anything else.
"Price increase will be determined more by fuel charges and airport charges. I don't think there is anything else which determines prices. But I don't expect a steep spike going forward, so to say," Ghosh said.