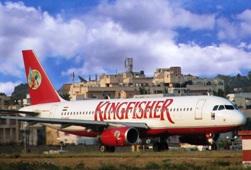 Airports Authority of India has made it clear that it would not allow Kingfisher Airlines to operate on 'cash and carry' basis till the grounded carrier cleared its dues amounting to almost Rs 400 crore (Rs 4 billion).

In its revival plan submitted to aviation regulator Directorate General of Civil Aviation on Wednesday, the cash-strapped airline is understood to have said that it has requested the Airports Authority of India to allow them to fly on cash-and-carry basis, that is pay for the services as and when the airline avails of them.

AAI sources said that Kingfisher could be allowed to operate on a cash-and-carry mode only after it clears Rs 390- crore (Rs 3.9-billion) dues to the state-run airports body.

Confirming this, AAI Chairman V P Aggarwal told PTI in New Delhi that Kingfisher would have to clear
its dues first before its request could be considered.
However, 'we have not received any letter or any such request from them as yet', Aggarwal said.
Earlier, he had said the airline owed over Rs 390 crore, including penal interests, to the AAI.
"Our dues are more than Rs 390 crore, inclusive of penal interests. "So we are asking a firm commitment in that because so far, what they have committed could not be honoured.
"We are asking for a firm commitment on the payment of the dues," the AAI chairman had said a few weeks ago.
He had then also said that though the airline had given some cheques last year, "one cheque of Rs 117 crore (Rs 1.17 billion) could not be encashed.
"The remaining amount was not covered and does not have any sort of guarantee.
"They have to give some guarantee.
"The cheques were presented but they bounced. A legal issue is going on".