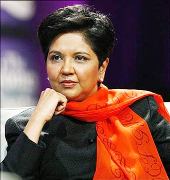 Recent irritants on the business front between India and the US, such as the H1B visa fee increase and some proposed measures and rhetoric against outsourcing, are not evidence of an anti-India sentiment in the US administration, says PepsiCo's chairperson and chief executive officer Indra Nooyi.
She was among the business leaders consulted by US President Barack Obama during his election campaign and after he reached the White House.
Speaking to Business Standard on the sidelines of a Yale India Initiative symposium here on Tuesday, she said: "When you have a country where you have to create jobs and going through an economic downturn, and you're dealing with another partner where the GDP growth is very robust, issues like this are bound to come up.
"This is inevitable and we just have to deal with them one-off. This isn't an anti-India statement."
Nooyi, who was chairman of the US-India Business Council for two years before she stepped down this April, also said the relationship between the US and India 'is the best it's ever been'.
She added that 'the president's visit to India is a historic event, and both on the Indian side and the US side, we have to figure out how to use this visit to the advantage of both countries'.
One issue she promised President Obama's visit would focus on was infrastructure development in India, calling it "front and centre on the president's agenda when he goes to India".
Indian Minuses
Earlier, speaking at the symposium, Nooyi had harsh words for the current state of infrastructure in India. "If I use the word appalling, it would be a bit of an understatement," she said, calling the lack of infrastructure the biggest challenge for industries trying to invest in India.
She also identified the quality of skilled manpower as another concern that India would need to tackle quickly. "The manpower that we get, even if they have an MBA degree or an engineering degree, unless they come from the top tier of schools, are not as qualified as they need to be," she said.
The Pepsi CEO emphasised her company saw India as an important market and innovation centre and was in the country for the long haul. She described India as a 'must-invest country offering great opportunities,' but added it was a place where the 'say-do ratio is very out of whack'.
The symposium was organised by the American India Foundation, USIBC and Yale. The event featured a wide-ranging discussion about India's economy and challenges to development, moderated by journalist Fareed Zakaria.
Joining Nooyi on the panel were India's HRD Minister Kapil Sibal, economist and former Reserve Bank deputy governor Rakesh Mohan, now on the Yale faculty, and Richard Levin, president of Yale University.
Nooyi made her exit after the discussion with a cryptic comment that invites speculation, especially on a day when it was reported that Obama's National Economic Council director, Lawrence Summers, would leave his job after the mid-term elections in November.
A Bloomberg report said administration officials were considering a 'prominent corporate executive' to replace Summers, and also that the White House was eager to name a woman to serve in a high-level position.
Nooyi made it clear that she was completely focused on running PepsiCo and making it a 'defining corporation of the 21st century'.
Yet, added, that at some point in the future, "I want to go to Washington and figure out how to give back to the United States".
Image: Indra Nooyi