Japanese auto major Nissan hopes to double its sales volume in India this year but expects exports to remain static.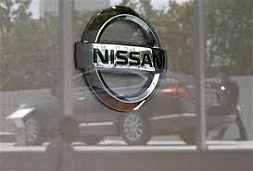 "We are expecting almost doubling our sales in this financial year. We are very well on track with Micra, Sunny and Evalia. Evalia will generate a very new type of customers..", Nissan Motor India Managing Director and CEO Takayuki Ishida said.

"For Nissan, Evalia buyer will be a new customer. They may not be Micra or Sunny customers", he told PTI.

Nissan, which along with France-based auto-maker Renault has a Rs 4,500 crore (Rs 45 billion) manufacturing facility at Oragadam near here, had sold about 40,000 units in the domestic market and around one lakh overseas last year.

Nissan's "Micra" and "Sunny" are manufactured at Oragadam plant. "I do not think (of a) jump in our exports", Ishida said after unveiling the Evalia in Chennai market.

The car is priced at Rs 8.49 lakh for the base variant while Rs 9.99 lakh (exshowroom Chennai) for the top model.

Evalia with 80 per cent localisation is developed by Hinduja-group company Ashok Leyland while engineering is from Nissan's headquarters in Tokyo.

"R&D is done by Ashok Leyland and engineering comes from Nissan, Japan... Of course, with Ashok Leyland we learnt something about how to produce a product at a very reasonable cost," he said replying to a question about its partnership with the heavy vehicles major.

Evalia is the second product from joint venture between Ashok Leyland and Nissan Motor India. The first product was the light commercial vehicle "Dost" which was introduced with Ashok Leyland badge in it.

Ishida said the company's plan is to increase the localisation level of Evalia by adding more local suppliers for its components.

"Next year, we will increase
the localisation...ultimate goal is 100 per cent. We will gradually increase it (to that level)", he said.
The Oragadam plant currently has two assembly lines in which one line was already running on three shifts while the other line is flexible to use for manufacturing "Micra" and "Sunny", he said.
The production could be ramped up as and when the demand increases.
On exports of Evalia, Ishida said the company does not have a concrete plan yet as the product was "exclusively" made for domestic market.
"At this moment, we do not have a concrete plan. This car is exactly developed product for Indian demand. Probably, in other countries, the demand will be different", he said.
He said Nissan Motor would also increase its dealership network to 300 by 2016 when they would have 10 new models in India including the "Datsun" brand by 2014.
"Dealership network is 75 and they are already in operation. We are targeting in the middle term plan period, we like to have over 300 by 2016,"he said.
A company official said Nissan would increase the dealership network to 95 by end of this financial year. Ishida did not rule out the possibility of launching the company's mass-electric car "Leaf" in India saying they would introduce it in small numbers for testing purposes.
"We are thinking to introduce smaller volume of our Leaf (for a testing purposes). You know electric vehicle is very very fuel efficient. For that we also need infrastructure like charging station...," he said.
Observing that for launching such electric vehicles there need to be a tie-up between the Government and such automobile manufacturers, he said "right now Leaf is exported (from Japan) and bringing it in India at what time and when is another story".  "Our intention is to bring it (for the Indian market)", he said.
Nissan had introduced the Leaf in Tokyo last year.