Strengthening its connectivity in the southern and western region, no-frills carrier IndiGo on Monday said it would launch new flights between Bangalore, Mumbai and Chennai from Tuesday.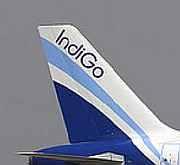 Indigo would launch two new flights on Bangalore, Mumbai-Bangalore and operate five trips daily along the route. Additionally, it would operate a third daily and direct flight between Mumbai and Chennai, IndiGo said in a statement.

"Commencing on April 10, these new services would further consolidate IndiGo's position as the fastest growing airline in India, with its 341 flights connecting 32 destinations", it said.

IndiGo President Aditya Ghosh said, "In line with our endeavour to meet the requirements of both business and leisure travellers, we have added new flights to our summer schedule. These new flights between Bangalore and Mumbai, Mumbai and Chennai, will provide more flexibility of choice for our customers."

As of February 2012, IndiGo has a market share of 21.3 per cent. It currently has a fleet of 56 new Airbus A320 aircrafts, the statement added.