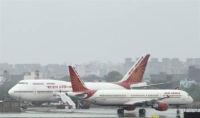 After being deferred twice, the civil aviation ministry has announced implementation of the much-disputed Ground Handling Policy from April 1.
With this, there will be only three ground handlers at each of the six metro airports in the country. At present, each airline has its own ground handling staff.
"The civil aviation ministry has asked all airport operators to initiate steps to implement from April 1. The Delhi high court has rejected a plea by airlines to stay implementation," said the Airports Authority of India.
The policy was to be implemented from January 1, but various airlines got a stay from the HC. This was overturned, but they've since gone to the Supreme Court. the hearing there is on April 4.
Delhi, Mumbai, Bangalore, Hyderabad, Kolkata and Chennai airports will have only three ground handlers each. One is to be Air India-Singapore Airport Terminal Services and the other will be the airport operator, in alliance with a ground handling partner.
The third handler for these six will be chosen by competitive bidding.
"AAI will get additional revenue of at least Rs. 350 crore (Rs. 3.5 billion) per annum, as the authorised ground-handling agencies nominated by it would start work at important airports like Chennai and Kolkata from April 1," added its statement.
The ministry had initially proposed to introduce the policy from 2007, but there was resistance from airlines and personnel supply agencies.
DGCA, flying schools to meet tomorrow


The Directorate General of Civil Aviation is likely to discuss the procedures followed in logging of pilots' flying hours on training and how to bring out best practices to weed out corruption from the system.
The meeting, to be held between officials of the aviation regulator and flying schools on Tuesday, will also discuss procedures followed during the renewal
of licences of these flying institutes.
"Not only in issuing pilot licences but best practices are not followed in even renewing the licences of the flying institutes, which needs to be discussed as well as the issue of fake flying hours," a DGCA official said on the condition of anonymity.
Every flying school has to get its licence renewed from DGCA every year and that is were rules are flouted.
"Not all the private flying institutes in the country have the best infrastructure required and get into unscrupulous ways to get their licence renewed," said an official of a government-owned flying institute.
There are 40 flying schools in the country and all of them are under the DGCA scanner.
The regulator also wants a complete revamp of the system followed during issuing licences to pilots. It is also going to appoint a third party to scrutinise aviation academies.
Till now, of the 4,500 Airline Transport Pilot Licences issued by DGCA, the aviation regulator has verified 1,700. Of the 1,700, seven turned out to be fake.
On Saturday, DGCA Assistant Director Pradeep Kumar and three others, including a pilot, were arrested in connection with the fake flying licence scam under which pilots were procuring licences using forged marksheets.
The Crime Branch of Delhi Police had earlier arrested two pilots.
The first to be apprehended was suspended Indigo pilot Parminder Kaur Gulati on March 8 and J K Verma of Air India four days later.
Meenakshi Sehgal of Indigo, another suspect, has obtained a court order preventing her arrest though she has been asked to join investigations.
However, pilots Swaran Singh Talwar of MDLR and Syed Habib Ali and Bhupinder Singh, who have licences but have not joined any airline, are still on the run.