Paving the way for the construction of international airport in neighbouring Navi Mumbai, Bombay high court on Thursday allowed CIDCO to transfer a 157-acre tract of land in Panvel, embroiled in ownership dispute, to Airports Authority of India.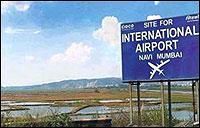 While Maharashtra government claims that it had acquired this land in 1960s and transferred to CIDCO (the planning body for Navi Mumbai) in 1973, a family from village Ulwe in Panvel also claims ownership.
The division bench of Justices D K Deshmukh and S P Deshmukh on THursday allowed CIDCO to transfer the land to AAI for the proposed greenfield airport, but kept the question of ownership open.
"It is clear from the records that the land is in possession of CIDCO for several years. The land will not be used for any commercial purpose unconnected to the construction of the airport," Justice Deshmukh said.
The court kept the petitioner Bivalkar family's plea pending. "In case it is held that the land does not rest with the government or CIDCO, and the petitioner (Bivalkars) is the owner, then the family will be eligible for compensation."
The court also allowed the Maharashtra government to withdraw a statement made by a government lawyer in 2005, agreeing that Bivalkars owned the land.
"The statement by the then government pleader was made without taking proper instructions from the revenue department....The statement was made only on the basis of what the forest department said, which has no authority to decide on ownership," government counsel Ravi Kadam argued.