With shares of most companies listed this year slipping below their issue prices and two initial public offerings (IPOs) already withdrawn, the scenario has remained challenging for the primary market.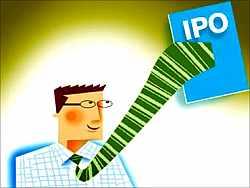 The latest addition to the list of IPOs closing below the issue price on listing day was Tribhovandas Bhimji Zaveri (TBZ). Shares of the Mumbai-based jewellery retailer on Wednesday closed nearly eight per cent lower at Rs 110.5, compared to the issue price of Rs 120 per share.

After opening at Rs 115, the stock traded between Rs 110 and Rs 120 on the National Stock Exchange. The company had raised Rs 200 crore through the IPO in April, which had received only 1.15 times subscription.

Shares of three of the five companies that went public this calendar year are trading below their issue prices, while that of the Multi Commodity Exchange (MCX) is almost flat, having slipped below the issue price in the past few trading sessions.

Surprisingly, this year's worst performing IPO is that of state-owned National Buildings Construction Corporation (NBCC), whose shares are nearly 16
per cent below their issue price. Meanwhile, the only IPO to have made decent returns to investors is tutorial firm MT Educare, 16 per cent above its issue price.
Last week, Samvardhana Motherson had to withdraw its share sale due to cold response from investors. The Rs 1,665-crore (Rs 16.65-billion) IPO was the biggest since Coal India's in October 2010. In January, Goodwill Hospital had to pull out its offering due to poor response.
According to experts, investor sentiment towards the primary market remains poor due to the weakness in the secondary market.
"The primary market will revive, when there is stability or some buoyancy in the secondary market. Investors will be wary of investing in new companies at a time when most listed stocks are not performing well," said Prithvi Haldea, chairman and managing director, Prime Database.
The country's benchmark indices have shed over two-third of the gains made at the start of the year. The Sensex is up about seven per cent so far this year, but is down 11 per cent from its February highs.