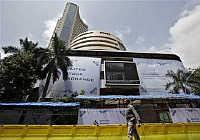 The BSE benchmark sensitive index Sensex, which has soared 20 per cent this year so far is likely to see handsome gains in the coming month, according to a report by Morgan Stanley.
December is very kind to equities and in the last 32 years (since 1980), the month of December has produced a 4.6 per cent median return - the best for any month in the calendar, the research report said.
Moreover, over the last 20 years, only on four occasions - on 1994, 2000, 2001 and 2011, December generated negative returns and there was not a common cause for these poor months.
"Since the 1990s, when FIIs started buying Indian equities, the December phenomenon is explained by the fall in institutional activity associated with the holiday season.
Consequently, local speculators tend to exert higher influence on shares and they rise in anticipation of fresh FII allocations in January," the report said. According to Morgan Stanley this December should prove "good for bulls".
However, one of the biggest concerns for the Indian markets this year include the Parliament
session, which may cause damage to the policy environment, it added.
The logjam in Parliament continued for the third day as the storm over FDI in retail rocked Parliament with a determined Opposition adamant on a discussion on the issue under a rule that entails voting.
However, the report added that "expectations are low, so an upside surprise is more likely." The monsoon session of Parliament was virtually washed away on the issue of CAG report on coal block allocations.
Some of the reforms announced since September that will come up for approval during the session include higher foreign investment ceilings in insurance and pension sectors, Companies Bill (Amendment), 2011 for improving standards of corporate governance and Banking Laws (Amendment) Bill to pave the way for the RBI to give new banking licenses.
Other pending bills include Land Acquisition Rehabilitation and Resettlement bill, Direct Tax Code Bill, Forwards Contract (Regulation) Amendment Bill, and Competition Act (Amendment), 2002 to bring all sectors under the purview of the Competition Commission of India, except stressed banks or insurers.