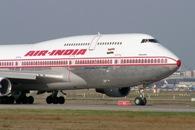 Serious concern was raised in the Rajya Sabha on Monday over airline pilots procuring fake flying licences through forged documents, with members saying this would put at risk the life of passengers.
Raising the issue during Zero Hour, Kalraj Mishra (BJP) said the arrest of an Air India pilot by Crime Branch of the Delhi police on Sunday is a matter of concern and it shows the Aviation department is not taking the issue seriously.
Less than a week after a woman pilot of a private airline Captain Parminder Kaur Gulati was arrested for procuring a flying licence through forged documents, Air India co-pilot J K Verma was arrested by the Crime Branch of the Delhi Police on Saturday on similar charges.
Two more such cases are under scrutiny, the police have said. Licences of 3,000 to 4,000 pilots are being scrutinised by the DGCA.
Mishra said recurrence of such complaints shows that the ministry was not paying adequate attention and demanded immediate action against the guilty.
His party colleague Maya Singh alleged that all this was happening with the collusion of the DGCA and demanded a thorough inquiry of the documents submitted by the pilots for getting licence. Deputy Chairman K Rahman Khan said the entire House joins the members on the issue.