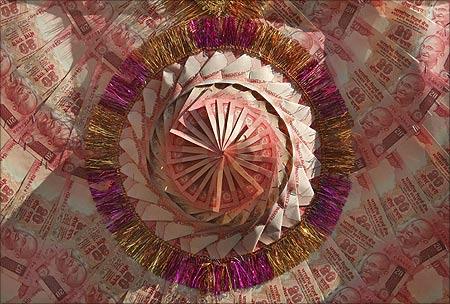 More than half the Sensex companies have declared their results for the third quarter and there are more positive surprises than disappointments.
The combined net profit of 18 Sensex companies is up 23.1 per cent over the corresponding quarter last year. This is higher than Street consensus estimates of 19 per cent growth for these.

India's top companies have also managed to beat the Street estimates on revenue growth. Combined net sales of the 18 Sensex companies is up 21 per cent over a year, against 16 per cent growth estimated by India's leading brokerages.
It was the best earnings performance in at least eight quarters, signalling a turnaround in India Inc fortunes after the lows of the June 2013 quarter. The same set of companies had reported 15.6 per cent growth in net profit in the previous quarter and 15 per cent growth during the corresponding quarter a year before. A similar recovery is visible in net sales.
In all, 14 of the 18 companies reported better net profit than Street expectations. Anil Agarwal's metals & mining giant, Sesa Sterlite, was the biggest surprise, with net profit nearly a third higher than Street expectations.

It was followed by natural gas & petrochem major GAIL (India) and consumer goods major Hindustan Unilever. Information technology (IT) companies also beat the Street, though their margin of surprise was much smaller than brick and mortar companies such as Larsen & Toubro and NTPC.
Mobile operator Bharti Airtel was the biggest disappointment, with net profit 40 per cent lower than the Street consensus estimate. Two-wheeler maker Hero MotoCorp also sprung a negative surprise, with lower than expected net profit, despite higher than estimated net sales.
Analysts attribute this to the strong growth exhibited by export-dependent sectors, especially IT. "Rupee depreciation has lifted the revenues and profitability of export-dependent companies. Given the higher weight of IT companies in the initial batch of results, they have lifted the numbers for the entire sample," says Dhananjay Sinha, co-head of institutional equity at Emkay Global Financial Services. He doesn't see a similar exuberance in domestic demand-driven sectors such as capital goods, banks, power, automobiles and oil & gas.
The top three IT companies together accounted for a little over 27 per cent of the combined net profit of all 18 Sensex companies in the sample. "This sample is skewed in favour of top performers and you can't use it to judge the performance of 30-Sensex companies," says G Chokkalingam, founder, Equinomics Research & Advisory. The actual Sensex earnings growth would be lower than the initial sample showed but will still be higher than the numbers in the first half, he adds.
Some of the big companies yet to announce their results for the third quarter include Cipla, Hindalco, Dr Reddy's Lab, Mahindra & Mahindra, ONGC, SBI, Sun Pharma, Tata Motors and Tata Steel.
Others are more optimistic and treat it the first sign of a clear recovery in earnings cycle. "I am surprised at the numbers. Corporate earnings are off their lows and are on an upswing. We can expect better numbers, though actual numbers would be a bit less if we adjust for IT companies," says Devang Mehta, senior vice-president and head of equity sales at Anand Rathi Financial Services.
If this is so, the current dip in the markets is a buying opportunity for investors. Once the dust settles over the US Fed tapering, the Sensex might make a new high, backed by better corporate earnings.