Could turn out below last year's budget estimate, with some improvement in revenue and spending
The government is likely to have finally cut its fiscal deficit to five per cent of gross domestic product (GDP) in 2012-13, led by a marginal surplus in revenue collection and a lower expenditure than given in government's official revised estimates (RE).
So, the final figure would not only be lower than in the RE (5.2 per cent) but also the budget estimates (BE) presented at the astart of FY13 (5.1 per cent). Most analysts had not expected the finance ministry to meet the BE projections for the fiscal deficit during 2012-13.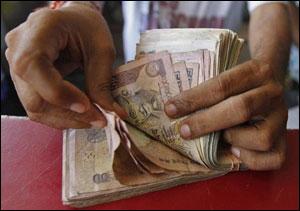 Preliminary data show overall net revenue collection (tax, after deducting states' share, and non-tax) are Rs 1,000-1,500 crore (Rs 10-15 billion) more than the RE of Rs 871,828 crore (Rs 8,718.28 billion). The actual expenditure is Rs 15,000-20,000 crore (Rs 150-200 billion) less than the RE of Rs 14,30,825 crore (Rs 14,308.25 billion).
"There is some shortfall in direct tax collection but net revenue collections are slightly higher than the RE. Also, there will be some savings, as we strictly applied the norm of restricting expenditure to a third of the total in the last quarter and 15 per cent in the last month of the year," said a ministry official.
In its BE for 2012-13, the government had projected the fiscal deficit at 5.1 per cent (Rs 5,13,590 crore). In the RE, this was slightly increased to 5.2 per cent (Rs 5,20,925 crore). Initially, most economists were sceptical about the BE figure being met; by the middle of 2012-13, even the ministry was apprehensive and, hence, raised the target to 5.3 per cent, while announcing a five-year schedule for fiscal consolidation. The target for the current financial year, 2013-14, is to cut the deficit to 4.8 per cent of GDP.
If the fiscal deficit is reduced by Rs 20,000 crore (Rs 200 billion) in absolute terms, it would stand at 4.9 per cent of GDP. If the reduction is Rs 15,000 crore (Rs 150 billion), it would be 5.04 per cent at a GDP base of Rs 10,028,118 crore (Rs 10,0281.18 billion).
Officials said the government could have further brought down the expenditure to 4.8 per cent last year itself, as savings of about Rs 1.5 lakh crore were expected in the Plan expenditure when it was finalising the RE. However, the ministry, strictly going by the rule book for giving funds, showed some leniency and cut the Plan expenditure target by less, at Rs 1,26,135 crore (Rs 1,261.35 billion), to Rs 4,29,187 crore (Rs 4291.87 billioN).
Ahead
A lower fiscal deficit in 2012-13 would make it a little easier for the government to achieve this year's fiscal deficit target of 4.8 per cent. Though it has been made clear to other ministries that the expenditure control norms would be adhered to in the current year, too, the possibility of populist measures before an election year and a lower-than-expected GDP growth could pose a challenge to this target.
Nominal GDP for 2013-14 has been projected at Rs 1,13,71,866 crore (Rs 113,718.66 billion), assuming 13.4 per cent growth over the advance estimate for 2012-13 released by the Central Statictical Office. The government has projected growth of 6.1-6.7 per cent in GDP this year, against last year's estimate of about five per cent.
A fall in global crude oil prices and a pick-up in exports are positive factors which would make the exchequer fatter. However, manufacturing has still not shown signs of an uptick. A reduction in inflation might also lead to higher spending in a host of items, postponed by households due to higher prices. This, in turn, could prompt increased activity in the economy.