After making steady progress over the last fortnight, the southwest monsoon is expected to stall over the next few days because of unfavourable conditions. The slowdown is only temporary, yet it could heighten the concerns over the smooth progress of the rain-bringing phenomenon upcountry.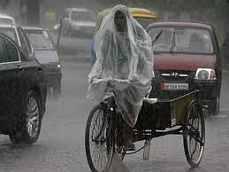 "Analysis of current meteorological conditions and numerical weather prediction models indicate that the conditions are not conducive for further advance of monsoon during next 4-5 days," the India Meteorological Department (IMD) said last week.

Thereafter, another pulse "may develop" in Bay of Bengal, which the IMD said, might lead to further advance of the monsoon over the remaining parts of central India and some more parts of the country's northwest.

At present, the southwest monsoon has covered almost half of the country, and is lying centered on eastern Madhya Pradesh. Ideally, it should have covered Madhya Pradesh and Rajasthan by June 25 and should have been lying close of Delhi and Punjab.

"The monsoon has been delayed by around 10 days this year, but so far it is not expected to harm kharif crop sowing in a big way," a senior government official said on Monday. "But if its further progress is hampered
in a big way, then there could be some trouble for normal farm production."
The concerns prompted senior officials from the union department of agriculture on Monday to review the progress of the southwest monsoon. They deliberated on contingency plans if rains remain below normal this year. Hope persists. "We are confident of facing any adversary," a senior agriculture ministry official said.
Even uneven rains, he said, was not expected to harm production of fruits and vegetables, as most horticulture crops in India is grown on irrigated land. The department of food had held a similar meeting last week to review the progress of monsoon.
Last week, the Met office said the southwest monsoon, during the next three months, would be largely normal, barring in some parts of northwest and southern India. It said rains in July, August and September could be 96 per cent of the long period average.
The four-month southwest monsoon season that starts from June accounts for almost 70 per cent of total annual moisture that Indian soil receives in a year.
India, which is one of the world's biggest producers and consumers of wheat, rice and sugar, relies heavily on the monsoon. For, about 55 per cent of its arable land is rain-fed, and farming contributes about 15 per cent to the near $2-trillion economy.