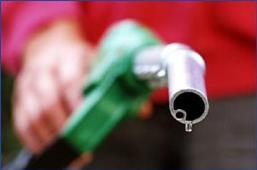 Even as the Bharatiya Janata Party-led National Democratic Alliance grouping and the Left parties called a 'Bharat Bandh' on Thursday to protest against the petrol price rise, there were mixed signals from the government on the issue.

Sources said a meeting of heads of the oil marketing companies -- Indian Oil, Bharat Petroleum and Hindustan Petroleum -- was called off.

Senior officials from the oil marketing companies said they'd been directed by the government not to announce any reduction in petrol prices this week, as this might  amount to buckling under pressure from the opposition.

News agencies, however, reported a likelihood that petrol prices might be revised on Friday.

The OMCs have over the past week been indicating scope for reducing rates from June 1.

The price is benchmarked against international rates, which have fallen from $124 to $114-115, allowing the room to reduce the petrol price by Rs 1.50-1.60
a litre.
R K Singh, chairman and managing director of Bharat Petroleum, told a television channel there was a possibility of reduction in the prices. "In the last fortnight, petrol prices have come down.
"Therefore, there is a possibility of reduction to the extent of about Rs 1.50 or so," he said.
He added, this would have been more, but the rupee depreciation had worsened the situation.
"Despite that, there is possibility of reduction on the basic price to the extent of Rs 1.50. So, including the tax, it could be around Rs 2 or so. We will take a call by the end of the day," Singh said.
The empowered group of ministers on the subject was earlier expected to meet on June 1 to decide on raising the prices of diesel, kerosene and cooking gas.
The meeting has been postponed. An official said it was because of unavailability of some ministers.