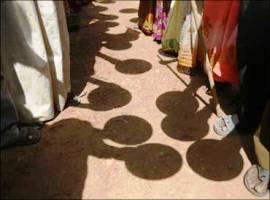 There was more poverty rate decline in rural areas than in urban ones in the past two years but the pace was still more in the latter, in a majority of states.

The noteworthy and heartening exception to this was in a majority of the so-called 'Bimaru' states of the north, where it was the reverse.

The poverty rate declined in rural areas by 8.1 percentage points, between 2009-10 and 2011-12 against 7.2 percentage points in urban areas at an all-India level.

Yet, in nine of 14 states, the rate at which those living below the poverty line in villages fell was at a slower pace than their urban counterparts.

All-India level, 25.7 per cent of the population was BPL in rural areas in 2011-12 against 33.8 per cent in 2009-10; in urban areas, it was 13.7 per cent and 20.9 per cent, respectively.

The figures were arrived at by the Planning Commission on the basis of the latest consumption expenditure report released by the National Sample Survey Office for 2011-12.

The calculation is based on the Suresh Tendulkar methodology.

Incidentally, the ambitious rural jobs guarantee programme, launched in 2006-07, was extended to all districts in 2008-09.

Of the nine states where the poverty rate shrank at a slower rate in rural than urban areas, Punjab saw a decline by 6.9 percentage points from 14.6 per cent in 2009-10 to 7.7 per cent in 2011-12 in villages.

In urban areas, the BPL numbers came down by 8.9 percentage points, from 18.1 per cent of the population to 9.2 per cent in this period.

Tamil Nadu and Andhra Pradesh had the lowest poverty rate in urban areas in 2011-12.

Andhra Pradesh had the lowest, at 5.8 per cent BPL; Tamil Nadu's was 6.5 per cent.

In contrast, among the five states where rural areas performed better in terms of reduction of BPL, four are 'Bimaru' -- Bihar, Madhya Pradesh, Rajasthan and Uttar Pradesh.

(Today's Chhattisgarh and Jharkhand were also part of the original Bimaru definition). The decline in rural poverty was uneven among states compared to that in the urban areas.

BPL villagers declined in the range of 1.6 percentage points in Karnataka to as much as 21.2 percentage points in Bihar.

Whereas, in the urban parts, the decline in the poverty rate in Madhya Pradesh was the lowest at 1.9 percentage points and the highest by 12.7 percentage
points in Haryana.
Apart from the Bimaru states, Assam was the only place which saw more of the rural population coming out of poverty than their urban counterparts.
In rural Assam, the BPL segment fell six percentage points, from 39.9 per cent in 2009-10 to 33.9 per cent in 2011-12.
Urban areas saw a reduction by 5.6 percentage points, from 26.1 per cent to 20.5 per cent.
Experts say if one takes out rural Bihar, the entire picture changes even at the national level.
"In 2009-10, when the poverty figures were released, it was noted that no change in poverty was witnessed in rural Bihar since 2004-05, which was shocking.
"There could possibly be some data issue in 2009-10, as Bihar is a fast growing state.
"It seems that growth was not captured somewhere then and now it has been reflected in these numbers.
"Hence, poverty reduction is quite high," said Amitabh Kundu of the Centre for the Study of Regional Development, Jawaharlal Nehru University. He added if Bihar's case is not considered, the average reduction in rural poverty becomes lower than urban areas at an all-India level.
The poverty reduction in rural Odisha and rural Karnataka was not that significant.
In rural Karnataka, poverty declined only by 1.6 percentage points from 26.1 per cent BPL people in 2009-10 to 24.5 per cent in 2011-12.
In rural Odisha, poverty reduced from 39.2 per cent poor people to 35.7 per cent in this period.
"It is not true that only backward states have done better in the rural areas.
"In developed states like Punjab, Haryana and Gujarat, the poverty reduction is better, and also in Andhra Pradesh, comparatively a better state. However, Karnataka and Odisha have not," said Kundu.
In rural Haryana, poverty came down by seven percentage points from 18.6 per cent in 2009-10 to 11.6 per cent in 2011-12.
In rural Gujarat, poverty declined from 26.7 per cent to 21.5 per cent in this period.
Rural Andhra witnessed a reduction from 22.8 per cent to 11 per cent.
Kundu felt these numbers could be a bit overestimated, as 2009-10 witnessed a drought and, hence, consumption expenditure sharply went up between 2009-10 and 2011-12.
"In rural areas, between 2004-05 and 2009-10, the growth in consumption expenditure was only 1.4 per cent a year.
However, between 2009-10 and 2011-12 it went up sharply to 9.1 per cent a year.
Hence, these numbers could be slightly overestimated," he said.