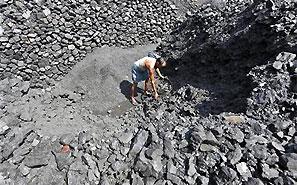 The Ministry of Coal has issued showcause notices to two more coal blocks in Odisha over delay in developing the mines, continuing its crackdown on non-serious allocatees.
The coal blocks in question are Mandakini block jointly allocated to Tata Power, Monnet Power and Jindal Photo Ltd and Ramchandi promotional block, a coal-to-liquid block allotted to Jindal Steel & Power Ltd.

The notice to Ramchandi block comes close on the heels of MoC's showcause notice served on North of Arkhapal Srirampur block, also allocated for a CTL project planned by a consortium of Tata Group firms through a joint venture with South Africa's Sasol Ltd.

The ministry's action on these two CTL blocks has seemingly jeopardised the fate of the two projects, the only of their kind in the country, planned at a combined investment of over Rs 1 lakh crore (Rs 1 trillion).

The MoC notice to Ramchandi block is on the basis of recommendations of the inter-ministerial group.

The IMG recommended issuing of showcause notices after noticing unsatisfactory progress and delay in development of the assets.

The ministry has given 20 days time to JSPL to respond to the notice, and explain the reasons for the delay, failing which it may face de-allocation.

The MoC noted that the developer of the coal block suffered from slippages on timelines on achieving key milestones like submission of mining plan, grant of forest clearance, land acquisition and grant of opening permission.

The allocatee has been asked to furnish a detailed status note on the end-use project for which the coal block was allocated.

The Ramchandi promotional coal block was given to JSPL in February 2009. The company intended to invest Rs 60,000 crore (Rs 600 billion) on the CTL project to be set up at Durgapur in Angul district.

Apart from Ramchandi block, the MoC has issued a served notice on Mandakini coal block.

The three developers for this block -- Tata Power, Monnet Power and Jindal Photo Ltd have also been given 20 days to reply to the notice.

The failures on the part of developers, as noted by the ministry, include inordinate delay in achieving major milestones like submission of bank guarantee, submission of mining plan, obtaining forest clearance, grant of mining lease and completion of land acquisition.

The slippages range from four months to three years and five months.