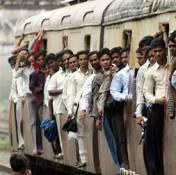 In what may not sound music to the ears of those advocating 'Maharashtra for Marathis', the state saw over 32 lakh migrants from other parts of the country -- almost 3.3 per cent of the state's total population -- during 1991-2001.
"During the decade 1991-2001, total in-migrants in the state were 32.8 lakh out of which 32 lakh persons (3.3 per cent of total population) were in-migrants from other states of the country," said the Economic Survey of Maharashtra (2009-10) tabled in the state legislature.
During the decade, around 0.48 lakh people (0.05 per cent of the state's total population) migrated from other countries, it said. Comparatively, the total number of migrants during the period were 8.97 lakh, it said.
The literacy rate for the state was 76.9 per cent. Of the six states, having literacy rate above the all India rate, Maharashtra stands second at 76.9 per cent following Kerala (90.9 per cent).
States having literacy rate above all India average of 64.8 per cent are: Kerala 90.9, Maharashtra 76.9, Tamil Nadu 73.5, Punjab 69.7, Gujarat 69.1 and Karnataka 66.6, the Survey said.
Age-group wise distribution of the population shows that 59 per cent of the population belonged to the age group 15 to 59 which may be considered as the major potential workforce, it said.
Of the 254 cities and towns in the state, 61 reported slums. The total population of these 61 cities and towns was 3.36 crore (33.6 million) of which slum population was 1.12 crore (33.3 per cent), it said.
"In other words, one person out of every three persons in these cities/towns was residing in slum," the Survey said. As per Census data's projections, the population of Maharashtra during 2006 was 10.48 crore (104.8 million) and may reach 11.27 crore (112.7 million) during 2011, the Survey said.
The proportion of menis expected to increase to 52.1 per cent during 2011 as compared to 52 per cent during 2001. Projected sex ratio is likely to decline from 922 during 2001 to 919 during 2006 and 915 during 2011, which is a matter of concern, it said.
Maharashtra is the second largest state in India after Uttar Pradesh as far as population is concerned. Maharashtra population includes 5.04 crore (50.4 million) men and 4.65 crore (46.5 million) women.
The percentage of scheduled caste and scheduled tribes population was 10.2 per cent and 8.8 per cent respectively. Similar proportion at all-India level was 16.2 and 8.2 per cent respectively.