French tyre maker Michelin is targeting at least 16 per cent market share in trucks segment in India in the next ten years, for which it will continue to invest in manufacturing, marketing and distribution.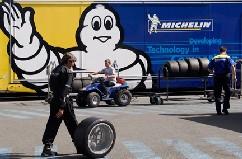 "In the next ten years, I would expect that we should be recognised as one of the leaders in the truck tyre market in India," Michelin President (Africa-India-Middle East) Prashant Prabhu said.

Asked what kind of market share the company would be aiming for in the next ten years, he said, "Michelin worldwide has 16-17 per cent market share and for us (India) to contribute to the group, we have to at least get to that level, because otherwise we bring down the group's average."

He said the Indian operations could do better than Michelin's global average in the truck tyre segment.At present, the firm's market share in India is not very significant, he said without disclosing details.

The Indian truck and bus tyre market witnessed a total production of 1.56 crore units in 2010-11, as per the Automotive Tyre Manufacturers' Association (ATMA).

It is dominated by the likes of Apollo Tyres, MRF and JK Tyres. Prabhu said with an aim to be a leader in a long run, the company is investing in expanding distribution in India and building its corporate identity.

It also has plans to make more investments at the Chennai plant, where it is investing Rs 4,000 crore (Rs 40 billion).

"The first visible step that we (Michelin) are taking to become significant in India is the investment at the Chennai factory...At Rs 4,000 crore (Rs 40 billion) we will not saturate this site, there will be other significant investments, which will be made on that site," Prabhu said.

Although the company has announced investment plans for only Rs 4,000 crore (Rs 40 billion), in 2009 India's Foreign Investments Promotion Board (FIPB) had cleared a Rs 11,000-crore proposal of the French tyre giant to set up the plant in Tamil Nadu.

The company operates 11 branded outlets, 'Tyre Plus' in India and has about 100 priority dealers to sell Michelin tyres, besides a large number of other retail points.

It is looking to add more outlets. Besides, the firm is also working on a plan to enhance corporate brand 'Michelin' in India.

"Media is India is so crowded that just to create a space for yourself is an expensive proposition. Our teams are currently working to define how the corporate brand should be established," Prabhu said.

As part of marketing and promotion, the firm is preparing to launch a digital campaign in India.

"We need to be in an educational process rather than be in a brain washing process. We need to do something that is much more fundamental than doing a 20-second television commercial," Prabhu added.

The company currently imports passenger car, truck and bus tyres in India. However with the commencement of production at the facility in Chennai, the company hopes to meet the demand for truck tyres in India from domestic production by 2015.