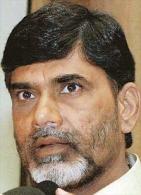 TDP President N Chandrababu Naidu on Tuesday asked women not to repay loans they secured from Micro-Finance Institutions (MFIs) till the government brought in a regulator to keep a tab on the financing business.


"Don't repay your loans till the interest rate is brought down to three per cent as promised by the government. If MFI agents harass you for repayment, tie them up in a room and call the TDP workers for support," Naidu said addressing a public meeting at Uppal.


He also demanded that the government put in place a regulator to rein in MFIs, which are facing flak for their coercive measures, leading to a spate of suicides in Andhra Pradesh. Naidu said MFIs borrowed Rs 10,000 crore (Rs 100 billion) from banks in the state and claimed to have extended loans to the tune of Rs 12,000 crore (Rs 120 billion).


"The MFIs are conveniently getting money from banks at lower rates of interest. They are disbursing the same money to women but charging interest ranging from 36-60 per cent. Why don't the banks lend the same money directly to the poor at cheaper rate of interest," he asked. Though the state government announced that it will help women secure loans from
banks at three per cent interest rate, nothing is happening in reality, he said.
The TDP chief began his three-day tour of Ranga Reddy district from Uppal today to study the woes of MFI victims and also those whose lands were acquired by the government citing various purposes.


Women members of self-help groups also met Naidu and appraised him of the situation that they faced. Naidu also alleged that the government was allowing MFIs to loot the poor people.


"The rich are able to secure loans from banks for as low as five per cent interest while the poor are forced to borrow money from MFIs at an exorbitant interest rate of 60 per cent," the Leader of Opposition said.


The government should immediately take steps to correct this issue, he demanded. Later, some TRS workers tried to block Naidu's convoy as he was proceeding to Bandlaguda village from Uppal. But police thwarted the attempt and took them into custody.