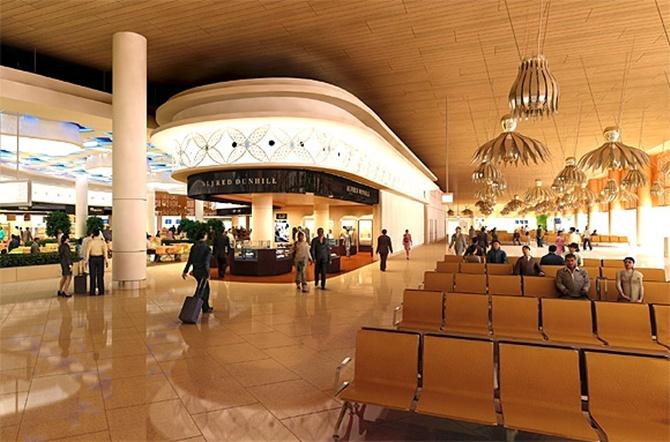 Mumbai is getting ready for yet another business district in an area that would be bigger than Bandra-Kurla Complex, which is home to a host of marquee names in business.
Known as the GVK Skycity, the area surrounding the swanky new T2 terminal in Sahar and built by the GVK group's Mumbai Airport International Ltd (MIAL), will have 20 million sq ft of commercial space that will be bid out.
The first phase, which will see the construction of hotels, three million sq ft of retail area, office blocks and conventions on 200 acres of airport-owned land, has begun and the GVK group plans to finalise the lease of 8-10 acre land parcels by March.
According to a GVK group presentation, the projected investment in GVK SkyCity will be over Rs 12,000 crore. Plans have been prepared to boost infrastructure and amenities, including sidewalks, arterial roads, a metro line and a recreation area, amongst others. The presentation talks about changing the real estate landscape of the area by creating a "vibrant 24x7 business and leisure hub and global convention and hospitality destination".
MIAL did not respond to an email query on the subject.
The first phase of the realty development began recently with MIAL inviting bids for four plots measuring 8-10 acres in Sahar near the international terminal. This means a development potential of 1.8 million sq ft. These plots will be used for constructing hotels and offices.
MIAL, which has received bids for the first set of plots, is expected to finalise the developer/manager partner by March. About 25 firms, including top global hotel chains and realty developers, have bid for the plot. Construction for the first phase will begin by the end of this year, following which MIAL is likely to invite bids for the second round of development.
According to sources familiar with the developments, the real estate development can fetch MIAL around Rs 18,000 crore. It hopes to earn about Rs 1,000 crore in deposits from developers for letting out a few of the land parcels by March 2013 and utilise the funds to finance airport construction.
MIAL will earn in two ways: a one-time deposit and an annual licence fee from the company that wins the bid. The licence fee amount can rise every year, says an industry source. According to the agreement between MIAL and the Airports Authority of India (AAI), the airport land has been leased to MIAL for a term of 30 years and extendable by another 30. However, the renewal of lease period can take place only after 26-27 years of the first lease period.
The lease period may be automatically renewed but currently stands at 30 years. But an industry source pointed out that since the land was leased to MIAL in 2005-06, the lease for the land parcels can be only for 22-23 years (taking the lease period at 30 years). Ashok Kumar, managing director of Cresa Partners, a commercial realty services firm, believes that since the first set of plots will be developed over a period of four to five years, the development will fetch good rates if the economy picks up.
"You must understand that if they rent the offices at half the price of BKC, it will sell well. The location is strategic and connectivity is good. Besides, BKC prices are too high now," says Kumar. Achin Khanna, managing director of consultancy firm HVS, however, feels getting hospitality players will not be an issue. "Demand in Mumbai has grown. There is pressure on average room rates due to competition but demand in the city is resilient. We feel Mumbai can absorb two to three hotel properties a year.'' However, some like Gulam Zia, executive director at Knight Frank, say the land parcels have limitations in terms of developing them.
"When you have freehold land, you can do multiple things, but the options seem limited in this project. You can do only developments related to airport activity. You cannot do an IT SEZ or call centre," says Zia. "AAI plots are leasehold, which is a drawback. I think these plots will be valued at 30-35 per cent discount to non-airport or freehold pieces of land," he says.