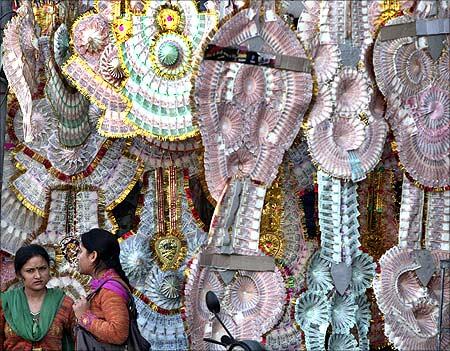 The government has taken a number of steps to stem the depreciation of rupee including moderation in demand of non-essential imports and enhancing supply of capital flows, Finance Minister P Chidambaram said.
"A number of steps have been taken to moderate demand of non-essential imports on April 12, 2013, enhance capital flows to augment supply of foreign exchange and curb speculation in the foreign exchange market to stem the rupee depreciation," Chidambaram said in a written reply to the Lok Sabha.
He said fall in value of rupee in the recent period is due to supply-demand imbalance in domestic foreign exchange market on account of elevated levels of current account deficit (CAD) and volatility in capital flows, particularly FII inflows.
Rupee breached the 64-mark against dollar intra-day by falling 98 paise to trade at record low of 64.11 today on the back of strong dollar demand.
Chidambaram said the impact of rupee depreciation on domestic consumers is mitigated to a large extent on the back of substantial subsidy outgo on imported items such as diesel, LPG, kerosene, fertiliser.
Also, headline inflation based on wholesale price index (WPI) has been at moderate levels in recent months at 4.86 per cent in June, he added.
In reply to a question on economy, he said several steps have been taken to revive economic growth including speeding up of infrastructure projects, enhancement of credit to infrastructure companies and strengthening of financial and banking sectors.
Besides, liberalised FDI norms in several sectors including telecom, deregulation of sugar sector, launch of inflation indexed bonds, fiscal consolidation through reforms and reduction in subsidy of diesel, cap on the number of subsidised LPG cylinders and new gas pricing guidelines are other measures, he said.
In reply to a separate question, Minister of State for Finance Namo Narain Meena said a number of measures have been taken to contain the CAD to reduce the volatility in the currency market and to stabilise the rupee.
These include compression in import of gold and silver and non-essential items, allowing public sector financial institutions to raise quasi-sovereign bonds to finance long term infrastructure, liberalising ECB guidelines, permitting PSU oil companies to raise additional funds through ECBs and trade finance and liberalising NRE/FCNR deposit schemes.