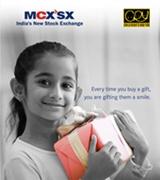 Financial Technologies Group-promoted stock exchange MCX-SX on Monday said it will reduce its stake in the bourse to about 5 per cent by September 2010, to meet the requirement of market regulator Sebi.
"We are working on it (dilution of stake), we have found some investors. We have been given time till September next year and we will definitely meet the target," MCX-SX Chairman Ashok Jha told reporters on the sidelines of the India Economic Summit.
As per Sebi's norms, no single entity can hold over 5 per cent in an exchange barring few stock exchanges and banking organisations that are allowed up to 15 per cent stake.
"We are required to meet the regulatory standards...we have not met in terms of divestment. The issue is as per the Securities Contract (Regulation) Act, no single entity or person can hold more than 5 per cent share in the stock exchange," Jha said.
The exchange's promoters --  Financial Technologies (India) Ltd and commodity bourse Multi Commodity Exchange (MCX) --  have already divested 30 per cent stake in the stock exchange to various public and private banks and institutions.
After meeting the divestment requirement, the exchange's promoters are likely to jointly hold 20 per cent stake. Financial Technologies is expected to keep 5 per cent stake, while parent company-cum-commodity bourse MCX may hold 15 per cent equity in MCX-SX.