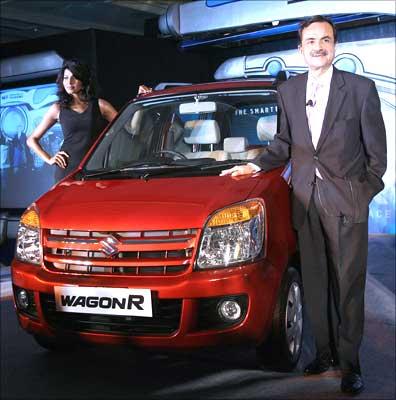 Maruti on Wednesday said its sales would grow in double digit percentage points this fiscal, faster than 2005-06, despite dampeners like high interest rates and increase in car prices.
The company, which launched a new-look WagonR model, is slated to roll out two new models later this year, including a new-look Zen and a diesel car.
"Despite the uncertainties of fuel price rise and interest rate increases, our efforts will be to push for a double digit growth for the full year," Maruti managing director Jagdish Khattar told reporters in New Delhi.
Maruti's overall sales, including exports, grew a mere 4.8 per cent last fiscal at 561,822 units. On the domestic front, sales were up 8.1 per cent as the company sold 527,038 units.
High cost of input materials like steel, rubber and aluminium has put sever pressure on automobile companies who have seen margins shrinking in a highly-competitive market.
Maruti has said it will hike prices by this month-end to offset this.
However, ruling out any major adverse impact due to all these negative factors, Khattar said a variety of positives were working in favour of higher sales.
"Cyclical trend indicates that after declining numbers for three years, sales would pick up this fiscal. Also, healthy growth of the economy and our tie-up with Mahindra Finance, which reaches to far-flung areas in the country, will help us get higher sales," he said.
Khattar, however, said that the 8 per cent excise duty cut on small cars, announced in this year's budget, had more or less neutralised due to high road tax in some states as well as hardening interest rates.
While launching the new-look WagonR, the company refrained from tinkering with existing prices, ranging between Rs 3.23 lakh (323,000) and Rs 3.72 lakh (372,000). However, the LPG-petrol variant 'Duo' will be costlier with its two models, costing Rs 3.4 lakh (340,000) and Rs 3.6 lakh (360,000). "This is the introductory offer, we will review prices later," Khattar said.
Asked whether Maruti would introduce LPG on other models as well, Khattar said the company "will go step-by-step" and analyse the response to the WagonR variant. -- PTI
Jagdish Khattar, managing director, Maruti Udyog Limited, poses with the newly launched WagonR Duo, which can run on liquefied petroleum gas (LPG) and petrol, in New Delhi on Wednesday.
Photograph: Prakash Singh / AFP / Getty Images