Hit by recurrent labour unrest at its Manesar unit in Haryana, Maruti Suzuki India Ltd (MSIL) on Thursday said the company would introspect on whether an affiliated union with a pro-business approach and mature leadership would benefit the company.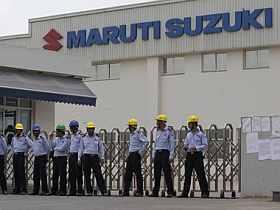 The statement is significant as labour discord had initially stemmed at the company's Manesar unit in June last year over the management's refusal to recognise an independent union.

The management had eventually conceded to the workers' demand in October, but had strictly maintained that the union should not be affiliated to any external agency or political body.

"We feel there is a need to introspect whether a union with external affiliation, which is pro-business and has a mature leadership, would help the workers and the company," said S Y Siddiqui, chief operating officer of MSIL. "The experiment with a union which has leaders who are 24-25 years old has not really worked at Manesar."

Siddiqui, however, clarified the decision on affiliation would rest with the workers at the unit.

MSIL had helped register the second union, Maruti Suzuki Workers' Union (MSWU), at its Manesar unit in accordance with the final settlement agreement inked between the workers and the management in October last year. Wage negotiations were on with the union representatives at the Manesar unit when violence broke out at the facility on July 18.

"We
cannot understand how people who are in dialogue with the company, who had no outstanding grievances, could do what they did," said R C Bhargava, chairman, MSIL.
The violent stand-off between workers and the management resulted in the death of senior management executive and left around 100 officials at the facility injured.
The workers had demanded an increment of Rs 15,000-16,000, while the management had made an offer of an increase of Rs 10,500. Siddiqui said: "This is a new union unlike the one at Gurgaon, they needed guidance. Negotiations were on and a final agreement was expected to be concluded by mid-August."
While the company has said it would not derecognise MSWU, wage talks would stumble temporarily as all office-bearers have been arrested in connection with the arson at Manesar. The company would, however, pay the workers at Manesar the revised wages retrospectively from April 1, 2012.
The three labour unrest at Manesar last year had cost the company production loss of 74,500 units. The company's share in the passenger vehicle sales in the domestic market had slid sharply to 38 per cent from 45 per cent in the last financial year.
Revenue losses had mounted to over Rs 2,200 crore (Rs 22 billion). It is estimated that the lockout at the factory this year has caused revenue losses of Rs 1,200-1,400 crore (Rs 12-14 billion).